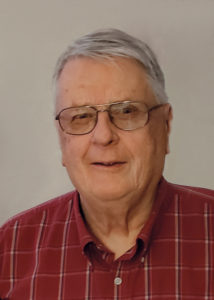 Roger Elmer Hammer, age 87, died on Thursday, January 28th, 2021 at the River Falls Area Hospital due to complications from the coronavirus. Roger was born in Ladysmith, WI, on October 30, 1933 to Elmer and Elsie Hammer (Kramer). He grew up in Hawkins, WI where his family owned Kramer's Store, a place where people gathered to buy necessities and catch up on the local news. In his youth, he spent many hours stocking shelves, making deliveries, and welcoming the community into the store. He would often recount stories of his idyllic childhood in the small, northern Wisconsin town.
Roger, or "Rog" as he was called by his friends, attended Hawkins High School, where he excelled in many sports. Along with playing football, he was co-captain of his high school basketball team, leading the Hawkeyes to victory in the 1950 Flambeauland conference championship. While all sports were a joy to Roger, baseball was his true passion and remained so for the duration of his life. He passed that love along to his two sons which inspired many trips to famous baseball stadiums together.
Following his 1951 graduation as class Valedictorian, Roger attended the University of River Falls, Wisconsin and studied Education. After receiving his bachelor's degree in 1955, he began teaching at the high school in Ladysmith, WI. He went on to teach in Stevens Point for four years, and then in 1963, he and his family moved to River Falls, and called this community home for his remaining 58 years. Roger first taught high school English, then moved to the library, becoming a library media specialist. In 1999, after 44 years of teaching others, he retired. Fellow teachers and former students alike describe Roger as remarkably kind and as having a razor-sharp wit that never failed to make people smile. He was an all-time favorite. Role model. Friend.
On August 6, 1955, Roger married the love of his life, Marlys Hammer (Hvass). Together the couple had five children over a period of seventeen years. Roger and Marlys remained married for over 58 years, ending only with Marlys' death in 2014. To Roger, family was a treasure.
Roger was a Christian who lived his faith by example, through his kindness, generosity, and thoughtfulness. His many acts of service to his church included singing in the choir, serving on the prayer team, and participating in and leading many Bible studies. His "small group" Bible study of 16 years held a special place in his heart. Roger lovingly spoke of this group as family even after aphasia had made finding his words difficult.
Roger's sense of adventure took him many places over the years. He enjoyed camping trips with his family, outings with beloved friends, and especially traveling across the United States with Marlys. One of his all-time favorite vacations was a 22-day cross-country camping trip to Los Angeles with his family. Truly it was the people in his life that made these adventures so wonderful for Roger, although he did not need an excursion to appreciate his friends. He especially enjoyed playing cards, dining out, attending concerts, listening to old radio programs, participating in study groups, and for a time, singing in the Croix Chordsmen Barbershop Chorus.
Roger's kindness, sense of humor, and insight brought light to all those around him.
Roger is survived by all his children, Teri (Rick) Hanson of Kennan; Leslie (Dean) Benoy of River Falls, David (Kim) Hammer of Rochester, MN; Sarah (Jim) Conkle of Missoula, MT; and Joel (Tiffany) Hammer of Baldwin; 10 grandchildren and 2 great-grandsons. He is preceded in death by his wife, Marlys; his parents; and his sister (Laureen).
Visitation was held on Friday, August 13, 2021 from 6-8 pm at Ezekiel Lutheran Church 202 S Second Street River Falls, WI and on Saturday, August 14, 2021 from 10-11 am at the church.  A memorial service was held on Saturday, August 14, 2021 at 11:00 am at Ezekiel Lutheran Church.  Interment was in Greenwood Cemetery on River Falls.  Memorials honoring Roger are preferred to Ezekiel Lutheran Church or Luther Point Bible Camp. Arrangements are with Bakken-Young Funeral and Cremation Services of River Falls.