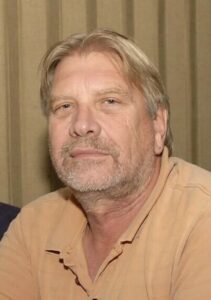 Rodney Frederick Bauch
Rod was born July 2nd 1948 in Rice Lake WI to Herb and Joyce Bauch.
Rod passed away suddenly at home in Somerset on January 6th 2023
He graduated from North High School in Fargo ND in 1966.
Rod joined the service in 1966 and did his boot camp at Fort Rucker, AL and was honorably discharged in 1969. During his service he was a Fixed-Wing Crew Chief and a gunner on Huey helicopters. His bravery during service earned him multiple citations.
When he returned from service he met and then married his wife Karen Mitchell in Barron WI on November 28th 1970. Rod and Karen settled in Minneapolis for a short time until moving to No. St. Paul in 1974 until they moved to Somerset in 2001. Rod worked at Lewis Bolt and Nut from 1969 to 1994 where he was a machinist and moved into sales. Rod then worked for Williams Steel and Hardware from 1994 to 2009 as inside sales. Rod had the gift for gab and made many friends through work.
Rod was an avid NASCAR fan along with supporting the Vikings and NDSU Bison. Horns Up! He was also a motorcycle enthusiast and it was always MOPAR or No Car.
Rod is survived by his wife Karen of 52yrs, and children Kim and Scotty (Molly)
6 Grandchildren: Torey (Katie), Freddy, Marquis, Tyshaun, Brody and Macy and Great Granddaughter Elena.
Sister Kris (Bob) and niece/goddaughter Sunny and nephew Cody, Brother In-law Dan Dean
Rod is proceeded in death by his beloved daughter Sam, parents Herb and Joyce, and sister Karen
A Funeral Service was held on Saturday, January 14, 2023 at 12 pm at Bakken-Young Funeral & Cremation Services 728 S Knowles Avenue New Richmond, WI and streamed live through the link just below this obituary.  Military Honors was provided by the New Richmond VFW Post 10818.  Visitation was on Saturday from 11 am – 12 pm at the funeral home.  Interment was in Collingwood Cemetery in Cumberland, WI. Arrangements are with Bakken-Young Funeral & Cremation Services.
Click here to watch Rod's service