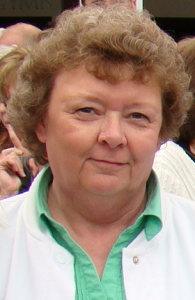 Roberta Irene Sylla, age 62, of River Falls, WI passed away peacefully after a battle with cancer at Region's Hospital in St. Paul, MN. Roberta was the daughter of Randolph and Irene Peterson born on January 7, 1955 in Red Wing, MN. She grew up on a farm near Martell Township; graduating from Ellsworth High School, class of 1973. She married Steven Sylla on June, 7, 1986 at Rush River Lutheran Church.
Roberta worked 43 years at Thomson Reuters (formerly West Publishing). She was a lifelong member of Rush River Lutheran Church. She loved cooking, knitting, entertaining family and friends, and watching the Green Bay Packers and Wisconsin Badgers. Roberta was the center of the family, cared for everyone, and loved being Grandma.
Roberta is survived by her husband, Steven; daughter, Kelly (Timber) Ebbens; son, Ryan (Kayla) Sylla; grandson, Alder Ebbens; siblings, Mary (Tom) Hines, Joan (Gordon) Sando, Ron Peterson, Betty (Ernie) Zappa, Al Peterson, Paul Peterson, Jane (Larry) Evin, and Tim (Donna) Peterson; in-laws, Alfred Gunderson and Jean Peterson; as well as numerous nieces, nephews, relatives, and friends.
She is preceded in death by her parents, Randolph and Irene; siblings, Sandra Peterson, Edie Gunderson, and David Peterson; and in-law, Kathie Peterson.
A memorial service was held Wednesday, December 6, 2017 at 11:00 a.m. at Rush River Lutheran Church (N8623 County Road Y) in rural River Falls.  Visitation took place Tuesday, December 5, 2017 from 3-7 p.m. at Rush River Lutheran Church and on Wednesday one hour before the service.  Arrangements are with Bakken-Young Funeral & Cremation Services of River Falls.