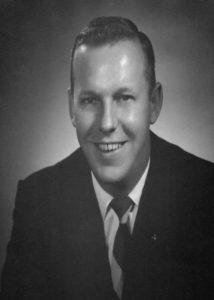 Robert Eugene "Bob" Smith, passed away peacefully in Hudson, Wisconsin at the age of 90 on June 3, 2019. Bob is survived by his beloved wife of 67 years, Dorothy "Dodie" Smith; children, Bobette (John) Shiffler of Arlington, TX, Jack Smith of Key West, FL, Peter Smith of New York, NY, and Daniel (Gretchen) Smith of Mahtomedi, MN; siblings, David Richardson of Hudson, WI, Bob Richardson of Spring Valley, WI, Donald Richardson of Hudson, WI, Susan Reese of River Falls, WI, and William Richardson of Spring Valley, WI; grandchildren, Aaron Shiffler of Dallas, TX, Chrystal Shiffler of Arlington, TX, Evan Smith of Minneapolis, MN, Isaac Smith of Mahtomedi, MN, Caroline Smith of Mahtomedi, MN; great-grandchild, Dylan Coulter of Arlington, TX.
Bob was born April 8, 1929, in River Falls, Wisconsin to Helen Smith. Bob started life as an only child just months prior to the start of the Great Depression and was raised as the son of a single mother. In 2016, at the age of 87, Bob finally discovered the identity of his deceased biological father, Lee Richardson, through the miracle of DNA testing. In addition to finding his father, Bob was able to meet his five living Richardson siblings who embraced Bob and his family as if they had been together a lifetime. Bob's newfound family brought joy and closure to his lifelong quest to learn the missing pieces of his life story.
Bob was raised in River Falls, together with David Smith, who Bob considered his brother. David, his wife Donna Mae and their five daughters are among those Bob cherished and considered his closest family.
Bob graduated from River Falls High School in 1947 and attended college at the University of Wisconsin-River Falls. In 1950, Bob enlisted in the US Navy and married his high school sweetheart, Dodie Halvorsen. They were stationed in Norfolk, VA and eventually transferred to the U.S. Naval Air Station in Key West, FL, where Bob specialized in public relations, working with the local newspaper and local radio station, WKWF. It was this experience in Key West that would forever change his life, setting him on a career path he would follow for the next 65 years in Broadcasting.
Upon completion of his commitment to the US Navy, Bob went to work for Newman, Stern & Madell/Public Relations in Miami Beach, FL. After a few years, Bob and Dodie returned to River Falls and Bob worked in radio in Red Wing, MN and for WAVN in Stillwater, MN. By 1960, Bob decided to strike out on his own and build WIXK in New Richmond, WI from the ground up. WIXK AM would become the first of seven radio stations that Bob would own and operate in Wisconsin, Minnesota, and Florida over the course of his lifetime.
Fondly known as "Radio Bob" to residents throughout Western Wisconsin and the St. Croix Valley over the past 60-plus years, Bob was a humble, self-made man with a celebrated sense of humor, high integrity, and know for always having an interesting and true story to share. His success in business and in life might have changed an average person, but Bob was never average and success did not change him, or the way in which he lived his life. Bob was a public figure, but a very private man who always had a kind word and helping hand for a stranger. He was an immensely generous man who supported many charitable causes, including the Mayo Clinic, various Humane Societies, Special Olympics and was quick to support a local cause through his radio stations and/or personal gifts. He will be remembered for leading an adventurous life, love of country, and his unwavering support for his family, many friends, and fellow man. Bob was known to be a man of the highest integrity and character. Within his close circle of lifelong friends, he was also known to be quite a character with a quick wit, exceptional sense of humor, and a source of many memorable stories.
Bob's success in small market radio broadcasting lead him to an audience with two very different Presidents of the United States. First, interviewing Future President John F. Kennedy in River Falls on the 1960 Campaign trail; and later in life as a dinner guest, with Dodie, at the Kennebunkport home of President George HW Bush and First Lady Barbara Bush.
Beloved by his family and friends, Bob was an accomplished golfer, successful restauranteur, music aficionado, lover of animals, and always up for a long road trip with friends, family, and a good radio station. He was a lifelong member at Ezekiel Lutheran Church in River Falls.
A very special thanks go to Bob's niece, Kim Stapleton, Director of Nursing at Red Cedar Canyon and the entire staff at Red Cedar Canyon for the exceptional love, care, and dignity provided by Bob while in residence.
A Funeral Service was held on Friday, June 7, 2019, at Ezekiel Lutheran Church (202 South 2nd Street, River Falls, WI 54022) from 3PM to 4PM, with a visitation and light refreshments prior to the service at the Church from 1PM – 3PM. Pastor Mark Hall officiated the ceremony. All are welcome to attend and celebrate Bob's incredible journey through life. In lieu of flowers, please make donations to Gregory's Gift of Hope (1374 Hwy 65, New Richmond, WI 54017) or Coco's Heart Dog Rescue (126 2nd Street, Hudson, WI 54016). Condolences can be sent to the Bob Smith Family c/o Bakken-Young Funeral & Cremation Services (PO Box 431 River Falls, WI 54022). Arrangements are with Bakken-Young Funeral & Cremation Services.