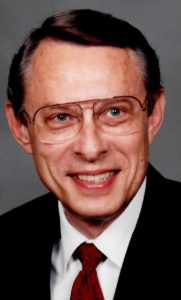 ROBERT D. KREY
Celebrating a Life!
Robert D. Krey, age 91, died on Thursday, January 7, 2021 from complications due to COVID-19 in River Falls Wisconsin.  Bob was born March 23, 1929 to Oscar L. Krey and Paula M. (Mueller) Krey in Sauk County, Wisconsin, and was baptized at St. John's Lutheran Church in Leland, Wisconsin.  He grew up on a farm in the Town of Reedsburg and attended East Narrows Prairie Rural School and St. Peter's Lutheran School and Church where he was confirmed.  He graduated from Reedsburg High School with the class of 1946.
Bob attended Carroll College in Waukesha where he was a member of the touring choir, the marching band, and a charter member of the Waukesha Symphony Orchestra.  In 1948, he graduated from the Reedsburg Sauk County Normal and later earned his Bachelor of Science in Education with a music minor at Wisconsin State College in Platteville.
He married Geneva Aide in 1951.  A son, Thomas, was born to this union.  That marriage ended in 1981.  He then married DeAn (Wickboldt) Hansen on September 5, 1987, at Christ Lutheran Church in Superior.
Mr. Krey taught in one-room schools in the Leland area from 1948 – 1951.  From 1951 – 1966 he taught Grades 7 and 8 in Gays Mills, Black Earth, and Lake Geneva, Wisconsin.  During this time, he coached Junior League Boys Basketball.  He directed the adult choir as well as the children's Christmas service for the First Evangelical Lutheran Church in Lake Geneva for seven years.
In 1966 he received a Fellowship and Research Assistantship to attend UW-Madison full time to seek a Ph.D. in Educational Administration.  He received his Masters Degree in 1967 and the Ph.D. in 1968 with an emphasis in Supervision.  He studied with Professors Glen Eye and Lanore Netzer.  The three of them continued writing together for several years including two textbooks on education and supervision.  He and Dr. Peter Burke later co-authored two more textbooks, the most recent was published in 2005.  The books were widely used, some of them internationally.  Bob also authored and co-authored numerous published articles on education and supervision and served as a reviewer of manuscripts for publication.
Dr. Krey began his career at UW-Superior in 1968 as an Associate Professor of Educational Administration.  He was promoted to Full Professor in 1974 while he was teaching courses in the Master's and Specialist's Programs in Educational Administration.  He was appointed Chair of the Department of Counseling and Educational Administration (1978-80) and then appointed Chair of the Division of Education (1981-1989) the appointment included the Athletics Department.  He retired from the Chair in 1989 and served as the Certification Officer for the campus the following year.  He retired as Emeritus Professor in 1990 after over forty years in education.  He had taught graduate courses throughout Northern Wisconsin and was also a Visiting Professor on the Madison campus.  He received the Chancellor's Award for Faculty Achievement in Research and in 1996 the Faculty in Educational Administration established the Robert D. Krey Award for graduate students to recognize exemplary scholarly work, papers, or research projects.  Krey served as a consultant to many public and private schools in several states and in Canada.  He still enjoyed hearing from his students and colleagues.
Dr. Krey was actively involved in numerous professional organizations, including Phi Delta Kappa, the Council of Professors of Instructional Supervision, the Wisconsin Educational Research Association, the Wisconsin Association for Supervision and Curriculum Development (WASCD) and the National Association for Supervision and Curriculum Development, the Wisconsin Association of School District Administrators, the Wisconsin Association for Colleges of Teacher Education (WACTE) and the American Association for Colleges of Teacher Education.  He held several offices and served on many committees in these groups, including President of WASCD and WACTE.  He was acknowledged in five different Who's Who Publications.  Bob was a lifetime member of the Alumni Associations at UW-Platteville and UW-Madison, as well as an Honorary Alumnus and lifetime member of the Association at UW-Superior.
After retiring, Bob moved to River Falls, Wisconsin, where he became active at Luther Memorial Church, serving on the Board of Lay Ministry, Trustees, and Education, as well as on their Long Range Planning Committee, Space-Facilities Committee and the Building Committee.  He sang in a quartet with DeAn and Pastor and Carol Hoefer for several years.  He also sang and traveled with the UW-RF Alumni Choir on four tours throughout central and Eastern Europe.  In addition to his research and writing, he enjoyed gardening, photography, traveling, music and dancing from a young age, and had served as President of the Cotillion Dance Club of Stillwater.
Bob was preceded in death by his parents; his brothers and sisters-in-law, William and Lila Krey, Philip and Verna Krey, and Donald Krey and Evelyn Holtz; his sister and brother-in-law, Helen and Arnold Gade; nephew and niece, Earl Krey and Susan Gade; daughter-in-law, Lynne Krey (Tom); father and mother-in-law, Henry and Sophie Wickboldt; sister-in-law, Joyce Wickboldt; step-father-in-law, Walter Fredrick and step-sisters-in-law, Leila and Janet Fredrick (Marlow).
Bob is survived by his wife, DeAn (Wickboldt); his son, Tom; two grandchildren, Nathan Krey and Tonya Kusler; and two great-grandchildren; nephews, David Gade (Diane) and Steven Krey (Pam); nieces, Diane (Gade) Loram; Karen (Krey) Hooker, Donna (Krey) Lichte, Karla (Krey) Killoy, and their families; a step-brother-in-law, Marlow Fredrick; two step-nephews, Brian and Scott and their families; and many much loved great and great-great nephews and nieces.
Memorials may be given to the Robert D. Krey Research Award in care of the UW -Superior Foundation: The Educational Administration Fund or the Luther Memorial Church Choral Music and/or Organ Fund.
A graveside service was held on Sunday, January 10, 2021 at 1:30 pm at Greenwood Cemetery in River Falls. The Reverend Scott Jensen officiated the service.  Arrangements are with Bakken-Young Funeral & Cremation Services.