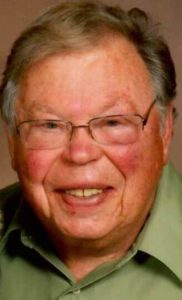 Robert "Bob" Kirkwold, age 81, died on Thursday, February 17, 2022 at his home in New Richmond. He was born the son of Herb and Esther Kirkwold on June 26, 1940 in Saint Paul, MN. Bob grew up in Saint Paul, graduating from Murray High School, class of 1958. He worked at Burlington Northern Railroad for 38 years. Bob met and started dating Jean Wosika in 1957 and later married on July 1, 1961 at Westley Methodist Church in Saint Paul. Bob was an award-winning winemaker, avid gardener, and a member and president of the Saint Paul Clown Club. He was also a member of the Kent Washington Lions Club, Roberts Lions Club, and president of the Puget Sound Wine Club. Bob was an optimistic, loving, gentle soul who cared about everybody.
He is preceded in death by parents, Herb and Esther. Bob is survived by his wife of 60 years, Jean; daughters, Terri (Mark) Ulrich, Kim Kirkwold, and Julie Kirkwold; grandchildren, Jason Ulrich, Julie (Keith Hilgart) Holm, Brett (Jenny) Ulrich, Jessica Berhow (Mike Turner); great-grandchildren, Francess and Rowen Ulrich, Ben and Jacob Holm, Willow Ulrich, Cameron and Quentin Berhow; brother, Paul (Maryann) Kirkwold; and many other relatives and friends.
A Memorial Service was held on Wednesday, February 23, 2022 at 3:00PM at Bakken-Young Funeral & Cremation Services (728 S Knowles Ave) in New Richmond with a visitation starting at 2:00PM. Arrangements are with Bakken-Young Funeral & Cremation Services.