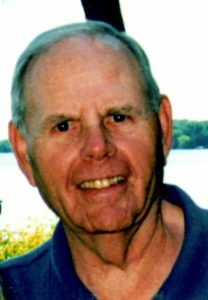 Robert L. Goodlad was born in New Richmond Wi on April 6, 1934, to John Arthur Goodlad and Louise Eliason Goodlad. He is preceded in death by parents, son John Robert Goodlad and his brother Charles John Goodlad.
Robert graduated from New Richmond High School in 1952. He married to Lorraine Halverson on April 17, 1955.
He entered the USAF January 1955, honorary discharged in September 1958.
Robert worked as a Medical Technician at Holy Family Hospital while attending UWRF, graduating in 1962. He began working at 3M Medical Products in 1964. During his time at 3M, he traveled extensively teaching in the area of Sterilization Techniques and Infection Control. He traveled to 41 countries and all 50 states, visiting each several times. After retiring in 1994, he established a mail order business selling electrocardiogram storage materials.
In 1996 Bob and Lorraine moved from New Richmond to Cedar Lake. At that time, he increased his activities in Masonic and multiple conservation organizations.
Bob was a dedicated family man, and avid hunter and fisherman.
Bob is Survived by his wife Lorraine of 68 years, daughter Ann Goodlad and son in law Jay Gjerseth of Star Prairie.
Services for Robert were held on Sunday, July 10, 2022 at Bakken-Young Funeral & Cremation Services (728 S Knowles Ave.) in New Richmond.  Visitation from 3:00 pm- 5:00 pm.  Masonic service beginning at 5:00 pm followed by a memorial service.  Arrangements are with Bakken-Young Funeral & Cremation Services.