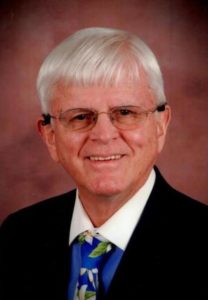 Robert Lyle Bouvin, a.k.a. Bob Bouvin, was born on October 17, 1935 in River Falls, Wisconsin to Erik Einar Bouvin and Florence Elsie Bouvin (Hagglund). He was the youngest of two sons. He passed peacefully at Woodland Hills in Hudson, Wisconsin after suffering from Alzheimer's Disease. His family kept vigil with him for several days as he made the transition to be with his mother and father, brother Raymond James "Jim" (Carol), brother-in-law Bruce Pennington (Patricia "Pat" Grant) and several cousins. We are all pretty darn sure that Bruce was waiting for him with a beer in hand and his parents and brother are celebrating his return. He is survived by his wife of 61 years– Shirley Marie (Grant); his four children — Annika Turba (David), Erik (Annette), Karl (Carolyn Joyce), and Terja Larsen (Frederick III); his thirteen grandchildren — Karl, Ana, Hans and Anton (Annika and David); Taylor, Hannah and Noah (Erik and Annette); Grant and Millie (Karl and Carolyn) and Anja, Erik Einar, Frederick IV "Fritz" and Sonja (Terja and Fred).
Bob attended River Falls Public School; he graduated from River Falls High school where he was the Salutatorian of his class; he attended and graduated from the University of Wisconsin — Madison on a ROTC scholarship with a degree in Business and Accounting where he played the tenor saxophone and marched in the University Marching Band. He also served in the U.S. Army.
Bob was born into, baptized, confirmed, married and spent his entire life attending Ezekiel Lutheran Church where he was a servant leader to the entire congregation. Anything that needed to be done, Bob just did it. He was co-chairman of the 1990 building project committee, spending countless hours planning and helping to build the "new" church. He was on the aesthetics committee for the 2005 addition. While Bob was always busy with many types of projects, his favorite hobby was wood-working. He built cabinets and furniture for the kitchens, preschool rooms; he laid carpet; he built sanctuary railings; he added on to the pulpit and altar for the "new" sanctuary; he built baptismal fonts for the "new" sanctuary and chapel; he built the altar and pulpit for the chapel; he built the back wall for the sanctuary and much more. He and his wife Shirley were a team in their servant-leadership in the church where Shirley continues to be extremely involved in the day-to-day needs of the church.
Bob worked as an accountant at Bertilson and Company from 1958 to 1960; he worked in partnership with his dad at the Red and White Grocery store in downtown River Falls from 1960 to 1964; he worked as a Quality Engineer at Gillette Companies from 1964 to 1979; and he was a property owner and manager from 1969 until his Alzheimer's more recently didn't allow him to make decisions. Bob strived to have time for his family, church and community by retiring from an everyday job in 1979 and dedicating his life to others. He was a Cub Scout leader and Boy Scout Master for many years, involving many fathers and more than 75 boys in his troop, turning out more than 30 Eagle Scouts. He was an Eagle Scout and both his sons became Eagle Scouts. He was president of the Band Boosters when both his sons were in the River Falls High School Marching Band supporting the Boosters in raising money for two trips out west.
Bob's first love was his wife Shirley, who was born in the neighboring town of Baldwin and moved to River Falls when she was only a year old. She also spent her entire conscious life in the Ezekiel Lutheran Church. Bob used to joke that Shirley had him picked out in the 6th grade. As high school sweethearts, whose parents were friends and attended the same church, they have spent their entire lives together. Bob and Shirley made an excellent team in life. They could spend hours each day sitting on the balcony of their home on Highway 65 (designed and general contracted by Bob), overlooking the Kinnickinnic Valley, admiring the view, talking about their days, discussing their children and planning for their future.
Followed very closely behind his wife, was his love for his children. Bob was a yes-man to his children. He always had time for them, whether it was playing hard in the swimming pool he built himself in the front yard; taking his children on boat trips on the Mississippi, waterskiing the entire way into Iowa and camping on the man-made beaches; downhill skiing for entire weekends (something he learned to do as an adult after his oldest Annika expressed interest); playing board-games on rainy afternoons; spending an entire day putting together a model with one of his children on the spur of the moment; throwing a ball around outside; taking his children on camping canoe trips and teaching them to steer the boat. Later as his children turned into adults, he showed up at their homes to help and support them in learning to do whatever house project needed to be done. He showed up in their lives whether it was in their successes or failures, in sickness and health. He supported each one — Annika in becoming a nurse and later, along with her husband becoming an organic farmer; Erik in becoming an Actuary and spending years working and studying for his actuarial exams while raising his family; Karl in starting and running his own business as a baker in a Great Harvest Bakery; and Terja in attending law school and eventually starting her own practice as an immigraiton attorney. He supported his children's interests and pursuits no matter what they were. Bob and his wife Shirley, both, always and enthusiastically got on the phone when any one of their children called.
Bob supported his grandchildren by attending (sometimes traveling across the country) their music concerts, dance recitals, gymnastic events, sporting events, horse shows, etc. He and his wife Shirley were always interested in their pursuits and ready with a smile and a hug. He built playhouses for his children and grandchildren, outdoing himself when he built a two-story playhouse to match his son's house complete with Winnie the Pooh in-laid wood floor, oak cupboards and railings, a second-story loft and a porch across the front. Most importantly, Bob was an example to his grandchildren in his servant leadership to his family, church and community as he always showed up when he was needed to help complete any type of project that needed to be done. Through his children, his grandchildren have also learned the value of a can-do, how-hard-can-it-be attitude in life. His children and grandchildren have inherited their father's and grandfather's confidence and lack of fear of failure.
As Bob lost his memory (Alzheimer's) and his ability to think and problem-solve, he did it gracefully. He had the ability to enjoy every stage of his life without regrets. He never lost his sense of humor and his ability to kid with the best of them. He never lost his ability to express his love for his wife, children and grandchildren. He never lost his ability to see the beauty in life. Because he had lived his life to the fullest without regrets, he didn't have any unfinished business and he was able to accept the changes in his brain and still enjoy life. As Bob progressed in his disease, his wife Shirley remained faithfully by his side caring for him in their own home on Highway 65 and later at Woodland Hills in independent living and eventually memory care. His children supported their mother in whatever way they could as she tired herself in caring for him. His wife and children are happy that he only had to spend a little over five months in memory care and he only spent two days completely wheelchair bound.
Bob left his mark, not just in the countless things he made with his own hands, but in the example he was for us all. Be yourself. Don't worry about what others might think (or more appropriately, don't even care about what they might think). Serve others. See things that need to be done and just do them. Live your life without regrets. Travel the world. Take risks. See beauty in life. Be the home where kids want to be. Play hard with your children. Always, always have a sense of humor. Enjoy each and every stage of your life, even if you lose your brain. Hold your mortality close to your heart, so you live life to its fullest. If we can all have just a little Bob Bouvin in us, we will be doing alright in life. Bob (Husband, Dad, Grandpa, Uncle and Friend), you taught us all well through your example and we will carry on your legacy. Bob, we were already missing you dearly, even though we were still able to enjoy your presence in your last years.
A Celebration of Bob's Life was held on Saturday, March 7, 2020 at 11 am at Ezekiel Lutheran Church 202 S 2nd Street River Falls, WI.  Visitation was held on Friday, March 6, 2020 from 4-7 pm at the church and on Saturday from 10-11 am.  Interment was in Greenwood Cemetery.  In Lieu of flowers, memorials are preferred to Ezekiel Lutheran Church.  Arrangements are with Bakken-Young Funeral & Cremation Services.