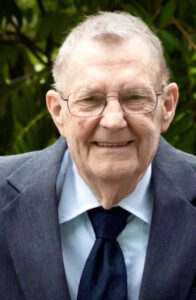 Robert Dean Hanson passed away peacefully at the Deerfield-Terrace Apartments in New Richmond, WI on September 22, 2023 surrounded by family. Born on March 21, 1934 in New Richmond, WI to Arthur and Bernice (Kimmel) Hanson. Bob graduated from New Richmond High School in 1952. He was working at Kocians Market in New Richmond where he met his future wife, Mary Jane Stensvold. They were soon united in marriage on October 23, 1954 in Clear Lake, WI.  He briefly worked at Munsingwear in St. Paul, MN.  He then managed a grocery store in Centuria in 1958 before coming back to be the Manager at Kocians Market at their newest location on the northside of New Richmond where he spent over 30 years in the grocery business.  In that timeframe, they started a family which quickly grew to 7 children and after a couple moves, they built a house on the northside of New Richmond where they remained for the next 63 years until moving to the Deerfield in 2021 where they continued their independent lifestyle.
When he "retired" from the grocery business, he worked for Les Rondeau with Rondeau's Floor Service where he vacuumed offices and did floor sealing. During that time, he was asked to run the concession stand at Hatfield Park in New Richmond and then to offset the seasons he was asked to run the concession stand at the New Richmond Hockey Rink where he remained there for the rest of his working days. Over 30 years at the rink gained him a reputation of having the best hot chocolate, the best popcorn, and the best hot ham and cheese sandwiches among being known as the best skate sharpener.  He had his sweetie by his side for most of the tournaments and Varsity games.  Getting many opportunities to see the hockey playing grandkids in action and then to see them become future coaches.
He was loved by many. He will most be remembered for having a strong work ethic, a great demeanor, and always had a smile on his face. Making annual camping trips to Wisconsin Dells, various State Parks and independent campgrounds, day trips to Lake Superior with 7 kids in tow, Sunday drives that ended in DQ stops, and creating a "family first" environment for his family.
Bob was preceded in death by his wife, Mary Jane; father, Arthur Hanson; mother, Bernice Hanson; sister, Mavis Marson; brother, Donald  Hanson; sons, Robert Hanson Jr., Garry Hanson, and Tim Hanson; and granddaughters, Stephanie Hanson and Heidi Hanson.
Bob is survived by sons, Terry (Brenda) Hanson and Steve (Sue) Hanson; daughters, Annette (Kelly) Erickson and Pamela (Mike) Timp; daughters-in-law, Mary McGurran, Jan Caress-Hanson, and Carolyn Hanson; grandchildren, Isaac (Darielle) Hanson, Abby (Robert) Holden, Noah Hanson, Michelle (Ryan) Carlson, Lindsay (Pat) Cranston, Nick Hanson, Heather (Danny) Gilkerson, Josh (Nicole) Page, Matt (Alicia) Page, Jami Bucklen, Melissa (Chris) Neill, Kristopher (Dondi) Hanson, Justin (Connie) Hanson, Sarah (Jon) Ninas, Jen (Wade) Brost, Alisha Hanson, and Tyler (Shawna Tarman) Hanson; great-grandchildren, Brock Carlson, Nora Carlson, Lucy Cranston, Ruby Cranston, Jake Cranston, Claire Gilkerson, Chase Gilkerson, Chloe Gilkerson, Will Page, Eric Page, Jordan Page, Cece Page, Kenley Bucklen, Cooper Bucklen, T.J. Neill, Josie Neill, Rylie Neill, Olivia Hanson, Jackson Hanson, Henry Hanson, Louisa Ninas, Graham Brost, Harper Brost, Emiline Hanson, Kayson Hanson, Archie Page; sister, Ranae (Laton) Henderson; and many nieces, nephews, and brothers-in-law and sisters-in-laws.
A service for Bob was held at the United Methodist Church (209 E 2nd Street New Richmond WI 54017) on Monday October 23, 2023 at 1:00PM. Visitation was held for 2 hours prior to the service, followed by lunch. Burial was in the New Richmond Cemetery following the lunch. Arrangements are with Bakken-Young Funeral & Cremation Services.
Click here to watch the recording of Bob's service.