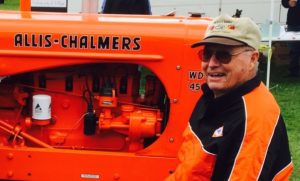 Bob (Robert) W. Bjerstedt passed away peacefully with family at his side on March 29, 2020. He was born September 3, 1932 on the family farm near River Falls, the first child of Warren and Winifred (nee Edwards) Bjerstedt.
He is survived by his wife Betty of 43 years; brother Dick (Norma); daughter Terry McKay, son Todd (Denise) and daughter Connie (Mike) Van Keuren; stepchildren Terri (Rick) Benson, David Sutherland and Crystal (Eric) Karnowski; several grandchildren, great grandchildren, step grandchildren and step great grandchildren; and many nieces and nephews. He is preceded in death by his parents, sister Marlene, and stepson Mark.
Bob and his brother Dick took over the family dairy farm after the loss of their father in 1947, all the while attending school and starting families. Bob married Shirley Harrison in 1954 and continued farming until 1969. He moved with his family to Grand Junction, Colorado to start a farm implement business selling Allis Chalmers, Massey Ferguson & Hesston equipment.
In 1978, he returned to Wisconsin with his wife Betty, ultimately returning to where he started: The Family Farm. Bob and Betty's became a place to get your equipment repaired, share a fabulous meal, and listen to some good-old Bob BS. The Farm was the original site of the now famous Threshing Bee, which continues today by the St. Croix Collector's Association. Bob's oldest grandson, Jeramie and his family, own a part of the farm and carry on many of his grandpa's talents and traditions.
Bob and Betty 'retired' in 1999, moving to Stockholm WI. He continued tinkering with his beloved Allis Chalmers, serving on the Pepin Township town board and making even more lifelong friends.
Bob will be remembered by his unmatched humor and generosity. A family memorial service will was held Saturday, August 1, 2020 at 4:15 pm at the family farm.  A public gathering of friends and family was from 5-7 pm following the service.
Cremation Services provided by Bakken-Young Funeral & Cremation Services.