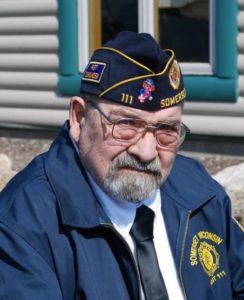 Richard E. Rivard, age 88, of Somerset, died November 14, 2020 at Hammond Health Services. He was born the son of Oscar and Lilah (Redlich) Rivard on February 12, 1932 in St. Joseph Township. Richard graduated from Somerset High School. He served proudly in the United States Air Force during the Korean War, returned home to Somerset where he worked at Andersen Windows and then went into farming.
Richard married Elizabeth "Bette" Raboin on January 25, 1958 and they had seven children. Together they provided their children with an incredibly happy childhood, filled with adventures on the farm, 4H activities, and many camping trips just down the road to Bass Lake. Richard was a loving husband, father, brother, and friend, but he was an EXTRAORDINARY grandfather and doted on his 22 grandchildren.
Richard was an avid reader, he loved bear hunting with the boys in Dairyland, gardening and humoring his children's and grandchildren's love for those "hayburners" or horses.
Richard is survived by his wife of 62 years, Bette, and seven children: Pete (Terri), Patty (Joe) Schachtner, Joe (Barb), Pauline Schachtner, Pam (Joe) Ince, P.Jay (Brenda) and Price (Tiffany), his brothers Harold (Theresa) and James (Sharon), many nieces, nephews, grandchildren and great grandchildren.
Richard is preceded in death by his parents, Oscar and Lilah, sisters Dorothy (William) Gleason, Shirley (Frances) Jasperson, Audrey (Marlowe) Lindau, Lorraine (Glen) Wickenhauser; brothers Stewart and Donald, and son-in-law Mark Schachtner.
A memorial mass of Christian burial was held on November 19, 2020 at 11:00 a.m. at St. Anne's Catholic Church in Somerset. Visitation was from 10:00 a.m. to 11:00 a.m. at the church with guests suggested to wear face masks and practice physical distancing. Military honors was performed immediately following Mass by the American Legion Post #111 of Somerset. A private interment will be at a later date. Arrangements are with Bakken-Young Funeral & Cremation Services.