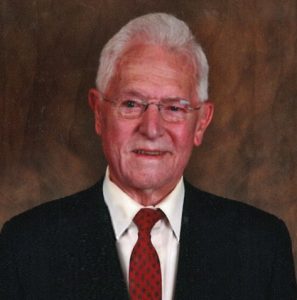 Richard Wellington Cox, a longtime resident of New Richmond, passed away on August 30, 2016 in Hudson, Wisconsin at the age of 88.
Richard was born on September 28, 1927 to Lawrence and Esther Cox in Chippewa Falls, Wisconsin, and graduated from New Richmond High School in 1945.  After serving in the Navy at the end of WW II and graduating from Valparaiso (Indiana) University, he married Helen Sohn, with whom he celebrated his 65th anniversary in October of 2015.
Richard was active in the community, serving at various times on the School Board, City Council and Rotary Club, and along with his brother Gene, he co-owned and operated the Cox Motors Ford/Mercury dealership in New Richmond until his retirement in 1989.
In addition to his wife Helen and brother Gene (Margie), Richard is survived by sons Mark (Judy) and Lawrence (Kathryn) and daughter Johanna Stratmoen (Douglas Fish).  Another son, Walter, passed away in 1998.  Richard is also survived by granddaughters Rebecca (David) Ford, Laura (Krishan) Dassrath, great-grandchildren Edison Ford, Morgan Dassrath and Eloise Dassrath, and many nieces and nephews.
A visitation honoring Richard's life was held at 9:30 a.m. on Friday, September 2, 2016 at St. Luke's Lutheran Church in New Richmond, followed by a funeral service at 11 a.m.  Interment in the New Richmond Cemetery took place on Friday afternoon, with arrangements being made by Bakken Young Funeral and Cremation Services.
In lieu of flowers, the family requests memorials be given to St. Luke's Lutheran Church, the National Ataxia Foundation, or any charity of the donor's choice.