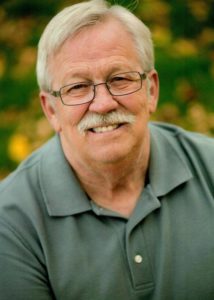 Richard "Dick" Clark, age 67 of New Richmond, died peacefully Tuesday, September 10, 2019 at Comforts of Home in River Falls. He was born the son of Douglas and Harriet (nee Scottum) Clark on January 10, 1952 in New Richmond. Growing up Dick was raised by Don and Harriet Preble after Doug passed away when Dick was 2 years old. Dick grew up in New Richmond graduating from New Richmond High School in 1970. He graduated from WITC in Rice Lake with a degree in Architectural Commercial Design and where he met his wife, Jill Haines. Dick and Jill married September 30, 1972 in Rice Lake, WI. After they were married, they moved to Fond du Lac, WI where their son, Brandon was born on October 6, 1973. Dick's professional career was in the home building industry, retiring in 2011. He loved watching the Green Bay Packers and Wisconsin Badgers. Dick enjoyed playing golf and spending time with grandchildren and friends. For 20 years, Dick was an active member of the Lions Club and New Richmond Chamber. He was a kind and gentle man of not many words but was quick with the one liner's and making people laugh.
Dick is preceded in death by his parents, Doug and Harriet; stepfather, Donald Preble; and brother, Harlan. He is survived by his wife of 46 years, Jill; son, Brandon (Brianne Rehak); grandchildren, Nixon Lombardi and Fletcher Hutson; brother, Sheldon (Veronica); sister-in-law, Sheila; and many nieces, nephews, relatives, and friends.
A memorial service was held Saturday, September 28, 2019 at 3:00pm at Bakken-Young Funeral & Cremation Services (728 S. Knowles Avenue) in New Richmond with a visitation starting at 1:00pm. Dinner was held following the service at Gibby's Lanes (546 W North Shore Drive) in New Richmond. Arrangements are with Bakken-Young Funeral & Cremation Services.