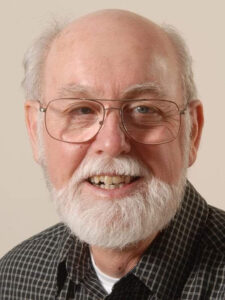 Richard Hamilton Beckham Senior passed away on October 27, 2022. He touched countless community members, friends, and family with his sincerity, good humor, and community mindedness.
Born in Amory, Mississippi to Effie Belle (Greenhill) and Thomas Hamilton Beckham, he was the sixth of seven children and the only one to pursue a career in academia. After earning his English degree at the University of Mississippi and meeting his wife of 61 years, Sue Bridwell, they moved briefly to South Carolina, where they had their first son, Rich. Ten years and several more moves later "the twins", Jennifer and Aran, arrived.
In early adulthood, Dick was inspired by the Civil Rights and Social Justice movements of the 1960s and by the expansiveness of the liberal arts. As an English Professor at UWRF for 34 years, nine of them as Chair, he enjoyed research and writing, but supporting students and connecting with colleagues was his truest love.
He embraced marriage as a partnership built on trust and mutual support. He would never be one to insist that family comes before all else, and yet to his three children he was a very special Dad, enveloping them in gentleness and affection, often making quiet sacrifices for them.
He balanced many healthy years in retirement between community service, time with grandchildren, social gatherings, and traveling with Sue. He loved photography and into his late 70s was spotted regularly riding his red one speed bike around River Falls. He is survived by his children, Rich, Aran, and Jennifer, their spouses, Amy, Lori, and Paul, and grandchildren, Elizabeth, Charlie, Emily, Cole, Tessa, Nick, and Alia. Just ten days after Dick died, Sue also passed on.
In lieu of flowers, memorials may be directed to Community Arts Base (Click here to donate), River Falls Library Foundation (140 Union Street River Falls 54022), or UWRF English Department (Click here to donate) (Choose college of arts and sciences and in description put in UWRF English Department-Richard Beckham). A Celebration of Life will be held on Friday, December 9, 2022 at 2:00PM at Bakken-Young Funeral & Cremation Services (805 E Division Street) in River Falls with a visitation starting at 1:00PM. A reception will follow at Junior's/Radisson Legacy Ballroom (100 Spring Street) with hors d'oeuvres provided. Arrangements are with Bakken-Young Funeral & Cremation Services.
Click here to watch the livestream of Dick and Sue's service.