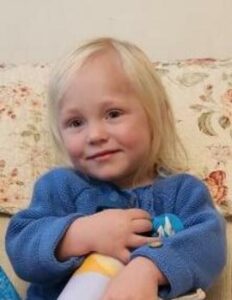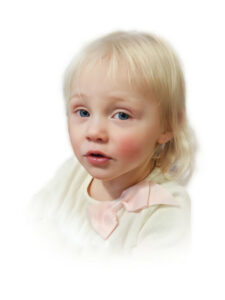 Reign Karma Berg from River Falls, Wisconsin, died on Saturday, June 10, 2023 from a tragic accident. She was born February 10, 2021, in Baldwin, Wisconsin.
Reign was a ray of sunshine and had a spirit that touched everyone's heart. She had a way about her that made everyone smile. She had a passion for the outdoors and exploring and loved anything to do with water. She was full of adventure for life and wasn't afraid to embrace it.
She loved her sunglasses and hats and loved to be "stylin and profilin". She believed she could take on the world, and especially her brother Destin, who she was fascinated with. And of course, her sister Aurora, who was her best friend. She spread joy, love, and happiness wherever she went.
Reign is survived by her parents, Joe and Christie (Campbell) Berg; siblings, Destin and Aurora Campbell, and Jakob Berg; grandparents, Louie and Rebecca Campbell of River Falls, Wisconsin, Carol Berg of New Richmond, Wisconsin; and her uncle, Adam Berg.
Reign is preceded in death by her grandpa, Benny Berg.
Mass of Christian Burial was Saturday, June 17, 2023 at 12 noon at St. Mary's Big River W10137 570th Ave, River Falls, WI.  Visitation will also be on Saturday from 11 am – 12 noon at the church.  Interment was in St. Mary's Cemetery.  Arrangements are with Bakken-Young Funeral & Cremation Services.