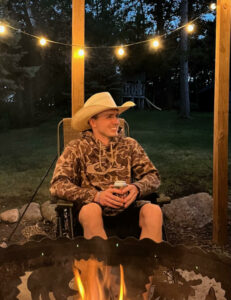 We are saddened to announce that on May 18, 2023, our beloved Reed James Blasius passed away at the age of 27.
On September 4, 1995, Reed was born in Waukon, Iowa to proud parents, Russ & Chris Blasius, their second child after welcoming Reed's sister, Emily, only two years prior. After a few moves, the Blasiuses settled in River Falls, Wisconsin, where Reed would attend elementary and middle school, as well as graduate from River Falls High School in 2014. After high school, Reed attended the University of Wisconsin-Stout, earning a bachelor's degree in marketing.
While his time on earth was short, it's not reflective of the impact he had on those around him.
Reed was a wonderful Son. He loved, respected, and looked up to his parents more than anyone could describe—all while trying their patience from time to time, as any good son would do. Reed was also a Brother, not only to his sister Emily and brother-in-law, Brett, but to all of his close friends and family members. Reed was a proud Uncle to his niece, Lyna. To see the light in his eye talking about being an uncle was truly love personified. Reed was a loving Grandson, who cherished each and every moment spent and memory made. Reed was a lover of Music as he could often be found sitting on a deck, around a fire, or at the dinner table simply listening to his favorite songs for hours on end. Reed was an avid Outdoorsman, always finding time to play 18 holes, sit in a deer stand, float on a boat, or wake up before dawn for duck season. Reed's story also couldn't be told without mentioning his devotion to the Green Bay Packers and Wisconsin Badgers. Reed lived for every first down, every sack, every touchdown pass, and every Lambeau Leap. Reed was a Bringer of Joy. His smile lit up every room he entered. Finally, Reed was just plain Fun, the kind of fun where you just wanted to be around him. His infectious laugh, personability, and sense of humor could wash all your worries away in an instant. With Reed, whether wearing cowboy boots with shorts, singing and dancing around a firepit, or road tripping for a football game, two things were always true: you were going to laugh and you were going to have the time of your life.
Reed is survived by his parents, Russ & Chris Blasius, his sister and brother-in-law, Emily & Brett Jordan, his niece, Lyna, grandparents, Jim & Mary Ann Blasius, Tom & Audrey Cusick, and a number of aunts, uncles, and cousins.
A visitation was held on Monday, May 22, 2023, at Bakken-Young Funeral & Cremation Services (805 Division St) River Falls from 4-7pm.  Funeral service was at Spirit of Grace United Methodist Church (127 South 2nd Street, River Falls)  at 11am on Tuesday, May 23, 2023 with visitation starting at 10am. The service was live streamed via the link below.  Interment was in Greenwood Cemetery in River Falls. Arrangements are with Bakken-Young Funeral & Cremation Services.