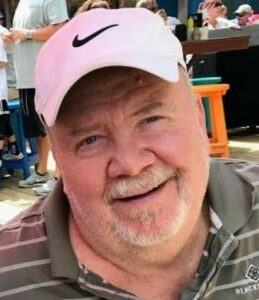 Randall "Randy" Robert Sanford, 65, passed away October 27, 2022 at his home from cancer.  He was born on October 30, 1956 in Saint Paul, Minnesota. Randy attended Woodbury Elementary School before moving to River Falls in 1967. Upon graduating from River Falls High School in 1974, Randy attended Hamline University. He earned his Bachelor's from UWRF and a Master's degree from University of Minnesota.
In 2000, Randy married Brenda Rauscher and became a stepfather to her children, Andy and Aimee, whom he so dearly loved. While Randy had various jobs, his career was as a Senior Research Analyst for the Minnesota Department of Revenue.  He considered golfing one of his most enjoyable pastimes, along with watching sports.
Randy will be remembered for his kind heart, his positivity, and passion for his family. He is survived by his wife, Brenda; children, Andy (Haley) Rauscher and Aimee (Rashad Starks) Rauscher; three grandchildren, Zalayah, Sarae, and Macklyn; mother, Reta (Lansing) Sanford; sisters, Connie (Duane) Haupt, Nalene Sanford, JoRae Sanford, and LaNelle (Craig) Johnson; brother-in-law, James (Kelly) Prince; and many nieces, nephews, great-nieces, great-nephews, as well as many other extended family.Randy is preceded in death by his father, Robert Sanford; and in-laws, Jerome and Joanne Prince.
Randy beat cancer both in the amount of time he was given and by not letting it change its affect on his positive spirit.  Randy's family express their gratitude to the dear people who rendered his care, friends, neighbors, and medical/hospice teams. A celebration of Randy's life will be held at a later date. Cremation services provided by Bakken-Young Funeral & Cremation Services.