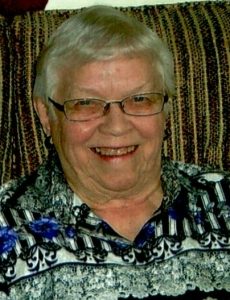 Phyllis Carol Tauferner, 91, died peacefully surrounded by family on May 15, 2017, at her home in River Falls, WI.
Phyllis was born May 1, 1926, in Wausau, to the late Martin and Erna Buttke.  She was a graduate of Wausau High School.  On October 30, 1948, she married Russell Tauferner at St. Stephen Lutheran Church in Wausau.  In addition to raising her 4 daughters, Phyllis worked part-time as a church secretary during their school years.  She worked at Wausau Insurance from 1978 until her retirement in 1988.  Phyllis was active in her church and the Mosinee VFW Auxiliary.  She enjoyed reading, flower gardening, quilting, needlework, camping, and spending time with her family.
Phyllis is survived by her loving husband of 68 years, Russ;  daughters Patricia Wieland, Brookings, SD; Sandra (Myron Mortell) Tauferner, Ellsworth, WI; Barbara Tauferner, Minneapolis, MN; and Kristine West, Palm City, FL.  Grandchildren, Emily, Katie, Jason (Erin), and Ava; and great-granddaughter, Lani.  She is preceded in death by her parents, sister, Bernice Anderson, and son-in-law Paul Wieland.
The funeral service to celebrate Phyllis' life was held on Saturday, May 20, 2017 at 11:30 am at Ezekiel Lutheran Church, 202 2nd Street, River Falls.  Visitation began at 10:00 am until the time of service.  A luncheon was served at the church after the funeral.  Interment at the Mosinee Cemetery at a later date.  In lieu of flowers, memorials may be given in Phyllis' name to Adoray Hospice, Mosinee VFW Post 8733, Ezekiel Lutheran Church, the American Diabetes Association, or donors choice.
Arrangements are with Bakken-Young Funeral & Cremation Services of River Falls.