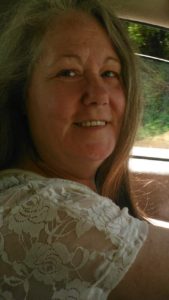 Peggy Ann Olson (Hanger), 60, passed away peacefully at home 11/26/2019 surrounded by loving family. She was born 08/27/1959 in Hamilton, Ohio.
Peggy lived in South Carolina working as a Deli Manager until moving to Wisconsin in 2004. Peggy worked as a caregiver for the elderly for many years & in the Deli at Walmart.
Peggy married her best friend; Edwin Olson on July 17, 2012. Peggy enjoyed being on a bike, open road ahead, wind in her hair; this is a place you could always find a smile on her face. She treasured spending time with friends she considered family & children she chose to hold close to her heart & protected them with fierce loyalty. She had a fondness for animals & most recently adored her dog; Scooter & cats; Mama Cat & Loki. She enjoyed watching birds, listening to music & the television could always be found on in the background. She loved the color purple, adored sunflowers & lilacs.
She was preceded in death by her husband; Edwin Olson & best friends; Deb Przybcian & Rita Zimmer.
Peggy will be lovingly remembered by her stepdaughter; Allison Grimsby, many she held very close to her heart; Arianna Larson, Brooke Mitzel, Tommy Mitzel, Jordan Mitzel, Dustin Mitzel, Trinity Olson, Lizzie Zimmer, Anna Green & Sarah Benbouia. Special friends she considered family; Tracey Zmuda, Carl Olson, Kim Shultz, Nancy Olson, Sara Larson, Leslee Kanan & extended family and many more.
Per Peggy's request, we will plan a celebration of life, date to be determined. Cremation services were provided by Bakken-Young Funeral & Cremation Services.