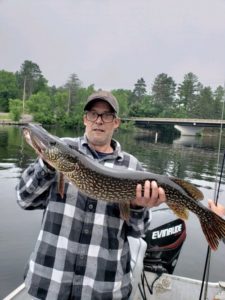 Paul Richard Radmer
March 17, 1965 — June 15, 2020
Hammond, Wisconsin
Paul Richard Radmer died on Monday, June 15, 2020 after a tough battle with lung cancer.
Paul was most proud of his family, life-long love Amy McGrane, son Paul Raymond Radmer and stepdaughter, Sabrina. He loved running his hardwood flooring business and fishing – a love shared with his son, and adding as many cool things to his custom Camaro as possible.
Paul was a unique character that touched the lives of so many with his infectious laugh and pragmatic view on life. One of his favorite phrases in life, "It is what it is" allowed him to achieve many goals in life, including being sober for the past four years. Paul took care of family and friends, always there when someone needed a hand.
Paul joins his mother (Bernadine Joan Radmer) and father (Eugene Charles Radmer) in death and leaves behind many, many loved ones – you are all appreciated.
Amy, Paul, Sabrina, Gene (brother) and Andrea (sister) thank everyone in Paul's life, including special friends Steve Nepstad, Adam Maas and Joe Steinhoff. He was a very social person though his illness prevented many from visiting him before he passed. Thank you to all who were able to visit, kept him in their payers and loved him.
Please help celebrate Paul's life, share stories, tears and laughter by stopping by 721 Charlotte Street, Hammond, WI on June 27th from 1:00 p.m. to 4:oo p.m.
Cremation provided by Bakken-Young Funeral & Cremation Services.