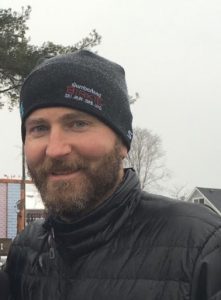 Paul David Mullen, 42, died unexpectedly Monday, October 30, in River Falls, Wisconsin.
Paul was born March 12, 1975, in Chippewa Falls, WI. He graduated from Bloomer High School in 1993 and from the University of Wisconsin-Stout in 1999. He met his future wife Anwen Kate Harris on Earth Day, 1999, and they married on August 4, 2001, in a clearing in the woods at her parents' home in Kronenwetter, WI.
In addition to his wife Anwen Mullen, Paul is survived by his children Lewis, Willem, and Freja Mullen, at home; his parents Kenneth and Susan Mullen, Chippewa Falls; his birth father Raymond (Karen) Wreford, Menomonie, WI; siblings Mark Mullen, Chippewa Falls, and Kelsey Mullen, Hawaii; parents-in-law Jim and Marty Harris, Kronenwetter, WI; and brother-in-law Andrew (Yuan-Chen Lee) Harris, Cary, North Carolina. Paul is further survived by his maternal grandmother, Joanne Olson, Chippewa Falls, his paternal great-grandparents John and Dorothy Wreford, Menomonie, WI, as well as aunts, uncles, nieces, and cousins. Paul was preceded in death by his maternal grandfather, Howard Olson of Chippewa Falls, and his paternal step-grandparents Leonard and Geraldine Mullen of Bloomer.
Paul worked as an industrial engineer for several prominent companies in western Wisconsin, and at the time of his death was Field Engineering Manager for Underwriters Laboratories (UL). He was highly respected by his employers, and throughout his career he was asked to provide leadership and assume increasing responsibility for his company's success. He was hard working, efficient, highly dependable, and always well-liked by his coworkers.
Paul was a loving husband, a devoted father, and a kind and generous friend. One of his greatest joys was reading to his children every night before bed. Paul would help anyone in need, and always impressed friends and family with his ability to take apart and repair mechanical things that others might discard. He had great patience with his children, and taught them to respect their bodies, guard their health and challenge themselves both physically and mentally. These values were especially important to him as he demonstrated through his involvement addressing issues of mental health and substance abuse. Paul strived to live a peaceful life, influenced by Buddhist thought. Excited by fresh ideas, he read widely, studied issues, and strongly advocated for action that he believed would create a better world for his children. He was an avid world traveler both for work and for pleasure.
Paul loved the out of doors and was an avid runner, recognized on the streets of River Falls as an athlete who trained tirelessly for competitive running events. He was also a Kubb enthusiast, cyclist, cross-country skier, kayaker, camper, and hiker. He enjoyed fishing on the Kinnikinnic River, just a brief walk from his River Falls home, as well as at his parents' lake home in New Auburn, WI.
Paul was an excellent cook and baker who delighted in nurturing his family and friends with wholesome, nutritious meals. He favored natural and organic foods, and delighted in bringing to the table meals that he created without reference to published recipes. Among his children's favorites were his home-made pizzas and fresh baked bread, filling the kitchen with their wonderful aroma. Paul loved working with his hands and spending time in his woodworking shop; he dreamed of a time that he could devote himself to this hobby and focus on making furniture and toys.
Paul's family is proud that he chose to be an organ and tissue donor (his gifts will help restore health to others, serving 75-100 recipients), and the family hopes that his example will encourage others to sign organ donor cards.
A visitation (with a celebration of Paul's life at 2:30) will be held Sunday, November 19, 2017, from 2:00 pm – 5:00 pm at the Unitarian Universalist Society of River Falls, N8010 WI-65, River Falls, WI 54022.
The family was assisted by Bakken-Young Funeral and Cremation Services, River Falls, WI. Friends have established an online Go Fund Me account for the Paul Mullen Family Memorial Fund.