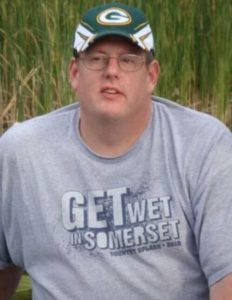 Paul Lorentzen, age 58 of Roberts, WI, passed away peacefully on Saturday, July 16, 2022 at Lakeview Hospital in Stillwater, MN. Born on May 15th, 1964, in New Richmond WI to Robert and Delores Lorentzen.
Paul lost his battle with cancer. He fought a good fight.
Paul was a very kind person to everyone that knew him. He had a big heart. Paul was a great brother, brother-in-law, uncle, and friend. Paul could make anyone smile, laugh and was always there.
Paul worked for Cub Foods for over 30 years, he had a great work family.
He is preceded in death by his grandniece, Malorie Mattoon. Paul is survived by Robert Lorentzen (Laura), Ashley, Jordan, and Andrea. Jesse Schuster (Ashley). Kayla Mattoon (Connor). Brently, Bennett, Kayden, Jaxson, Emilia, Barret.
A Visitation was held on Monday, July 25, 2022 from 4-8 pm at Bakken-Young Funeral & Cremation Services 728 S Knowles Avenue New Richmond, WI.  Interment was in the New Richmond Cemetery.  Arrangements are with Bakken-Young Funeral & Cremation Services.