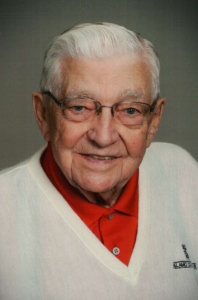 Patrick William Stafford died on August 28, 2017, following a lengthy and valiant struggle with cancer. Pat was born on May 19, 1929, in Detroit Lakes, MN, to George Dewey Stafford and Magdalen Mary Schaan Stafford.
On September 10, 1955, Pat was united in marriage to Doris Tobias at St. Bridget's Church in River Falls. He is survived by his wife of almost 62 years and their five children; Sheila Stafford (Phil Mattix), Mark (Polly) Stafford, David Stafford, John (Laura) Stafford, and Tom Stafford (Jamie Barry) as well as grandchildren Eleanor and Anna Mattix and Andrew and Mitchell Stafford.
Pat is further survived by his sister Cretia Benolken, brother Paul Stafford, brother-in-law Harvey Field and numerous nieces and nephews.  He was preceded in death by his parents, brothers Rev. Michael Stafford, OSB, ret., John Stafford and sister Mary Catherine "Diddy" Field.
Upon graduating high school, Pat enlisted in the Navy. He was discharged in 1948 and went on to receive a B.A. in Journalism from the University of Minnesota. His employment history included reporter for the Appleton Post-Crescent, news photographer for WCCO-TV and public relations manager for Prudential Insurance Company in Minneapolis and later for Great Northern Railway in St. Paul. Following the 1970 merger of Great Northern with other railroad companies to form Burlington Northern, he was named Director of Public Relations in 1974. As the trusted company spokesperson, Pat provided the official railroad statement to the press for noteworthy events such as train derailments, railroad mergers and other key company events.
Pat's career in journalism, public relations and media services allowed him unique opportunities that included photographing Eleanor Roosevelt, guiding Frank Lloyd Wright on a tour of the Prudential office building in Minneapolis as well as interviewing and photographing stage, screen, and media notables of the era.After retiring in 1984, Pat was involved in real estate sales, managing the River Falls Golf Club from 1987-89 and serving his community as a city council alderman and member of the police commission. He was an avid golfer and passionate fan of the Twins and the Vikings. Pat was an expert in solving crossword puzzles, swiftly completing the New York Times and Chicago Tribune crosswords every Sunday without fail. Pat enjoyed entertaining friends and family and cherished the past decade of winters spent in the Arizona sunshine. He was devoted to his Catholic faith, which sustained him over these past difficult months. In his own words, he was most thankful for his family; his wife, whom he adored and revered, and the pride and love he had for their children and grandchildren.
 Mass of Christian burial was held at St. Bridget's Church on Saturday, September 9, at 10:00am with visitation one hour prior. Luncheon following Mass with private graveside service and interment at St. Bridget's Cemetery afterward.  Memorials preferred to the American Cancer Society (cancer.org) and Adoray Home Health and Hospice (adoray.com). Pat's family wishes to thank Adoray and the staff at Red Cedar Canyon for their kindness and compassion.
Arrangements are with Bakken-Young Funeral & Cremation Services of River Falls.