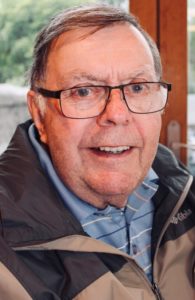 Patrick K. Byrnes
March 16, 1938 – March 19, 2022
Patrick K. Byrnes, age 84, passed away on March 19, 2022, surrounded by his family, at Our House Senior Living in River Falls, WI.
Patrick was born on March 16th, 1938 to Daniel and Cora (Erickson) Byrnes in Superior, Wisconsin. He grew up in Superior, graduating from the University of Wisconsin Superior in 1960. On July 14th, 1962 he married the love of his life Mary (McCorkell) Byrnes and together they raised two children. They raised their family in Green Bay, WI and Cedarburg, WI before moving to River Falls in 2014.
For most of his career, Patrick was the VP of marketing and sales at The F. Dohmen Company. He was a lifelong fanatic of the Green Bay Packers and has been a season ticket holder since 1963. Go Pack Go! He loved his family, golfing, watching sports, and spent a lot of time manicuring his lawn.
Patrick was preceded in death by his parents, Dan and Cora; his brother, Dan (Kay) Byrnes; sister, Betty (Doug) Bender; sister, Roberta (Emil) Hoeft; and sister, Lois (Richard) Mosentine.
Patrick is survived by his wife, Mary Byrnes; brother, Jerry (Seydi) Byrnes; son, Kevin (Deb) Byrnes; daughter, Tricia Robey; grandchildren; Jaimie (Paige) Byrnes, Amanda (Michael), Sarah (Cody), and Erin (Nathan) Dixon; along with 10 great-grandchildren. In lieu of flowers, donations are preferred to St. Bridget's Catholic Church and Demontreville Retreat Center, Lake Elmo, MN. A Memorial Mass of Christian Burial was held on Friday, March 25, 2022 at 11:00AM at Saint Bridget's Catholic Church (211 E Division St) in River Falls with a visitation starting at 10:00AM. Private family interment was in Saint Bridget Catholic Cemetery. Arrangements are with Bakken-Young Funeral & Cremation Services.
Click here to watch the recording of Patrick's Memorial Mass.