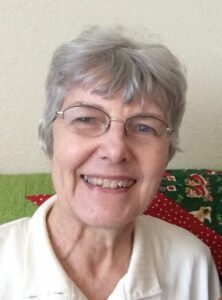 Patricia A. "Pat" Russell, age 79, died on January 26, 2023 at Comforts of Home-The Lodge in River Falls, WI. She was born the daughter of Charles and Ruth (nee Whitlock) Holderread on July 1, 1943 in Litchfield, IL. Pat grew up in Litchfield, graduating from Litchfield High School. She later went on to receive a bachelor's degree in education at Illinois State University. Pat married Albert S. "Bert" Russell on August 31, 1963 in Litchfield, IL at St Mary's Catholic Church. Once the children were grown, Pat taught early childhood and special education. Pat loved playing the harp and piano, gardening, and volunteering in many Litchfield organizations. Pat was a devout Catholic and loving mom and grandma to her family.
She is preceded in death by her parents, Charles and Ruth Holderread; and sister, Ruth (Wayne) Liken. Pat is survived by her husband, Bert; children, Matt (Susan), Kris (Andy) Murgas, and Kerri (Kevin) Schmedeke; grandchildren, Rachel (John) Mueller, Jonathan, and Ryan (Abigail), Aspen and Eric Murgas, Katelyn, Daniel, and Megan Schmedeke; great-grandchildren, Adam, Joey, and Elena Mueller; brother, Jim (Nancy) Holderread; and many other relatives and friends. A very warm and heartfelt thank you to everyone from St. Croix Hospice and Comforts of Home – The Lodge who have taken care of Pat over the many years with love and compassion. In lieu of flowers, the family suggests any donations be made to ADRC of Pierce County.
A Private Family Memorial Mass of Christian Burial was held on Friday, February 3, 2023 at 11:00AM at Saint Bridget Catholic Church (211 E Division Street) in River Falls. Interment will be in Holy Cross Catholic Cemetery in Litchfield, IL. The service was livestreamed via a link below the obituary. Arrangements are with Bakken-Young Funeral & Cremation Services.