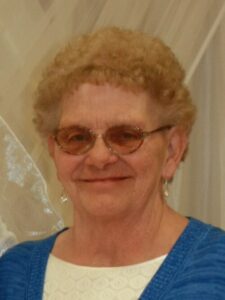 Pamela Sue Altier passed away peacefully at her home surrounded by family and loved ones on January 7th, 2023.
Pam was born August 26th 1948 in Fort Dodge, Iowa. The second of five children born to Sanford and Verda Gorden. Pam was raised in Stillwater, Mn.
Pam worked for thirty-one years in the housekeeping department at St. Joseph's Hospital in St. Paul, Mn., retiring in 2012. She loved her work there and always kept her house to the same level of cleanliness. Her family has had their homes cleaned many times by her since they did not meet her standard, especially patio doors. More than once a patio door was walked into by a child after Grandma visited because it was so clean they didn't realize it was still closed.
Pam loved the outdoors, walking, and being in the sunshine and seeing the moon. Windchimes were a constant for her, hanging outside and inside. She would sew Easter dresses for her daughters when they were young and enjoyed knitting scarfs and blankets for her children. She loved country and gospel music and could always be found listening to her favorite artists. When she wasn't listening to her music she had her television on, whether she was watching it or not. For relaxation she enjoyed working a good word search.
Preceded in death by her parents, Sanford and Verda Gorden; brother, Sam Gorden; husband, John Altier; and grandson. Kirk Lloyd. Survived by her four children, Maria Williams (Val), Mark Binkley (Andrea), Melinda Binkley (Joe), Michael Horner (Sarah); sisters, Connie Gorden, Sandy Gorden, Debby Lelle (Jeff); grandchildren, Ashley James, Kaitlyn Larsen, Benjarmin Williams, Kimberly Christian, Alex Williams, Kaleen Jacobs, Erika Norman, Travis Binkley, Cecilia Steinkraus, Jared Binkley, and Chandra Lee Ann Sieben; great-grandchildren, Evony & Daniel James (plus 1 in May), Ava Larsen, Miles, Lacey, and Russell Williams, Kacey Christian, Ethan, and Noah Jacobs, Griffin Heise, Olivia, Reggie, and Elora Norman, Zoey, Oliver and Henry Steinkraus, Austin Berger; and dear friends, Bill and Millicent Carroll.
A Funeral Service was held on Saturday, January 14, 2023 at 12 noon at Bakken-Young Funeral & Cremation Services (805 E Division Street) in River Falls, WI with a visitation starting at 10AM. Interment was in Saint Michael Catholic Cemetery in Bayport, MN. A funeral luncheon followed the cemetery at the Church of Jesus Christ of Latter-Day Saints (545 Stageline Road) in Hudson.   Arrangements are with Bakken-Young Funeral & Cremation Services.