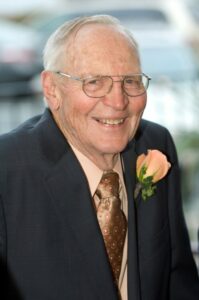 Orvin V. Luehman, age 91, of Star Prairie, WI passed away Thursday, January 5, 2023 at the St. Croix Health Center. Orvin was born to Werner and Florence Luehman on March 15,1931 near New Richmond, WI. He was raised on his family farm, with his 3 siblings, just north of Star Prairie, WI. Orvin graduated from Amery High School and in the summers he would help local farmers with chores. In 1949, he was helping on the Everson farm and it is there he met the love of his life, Ruby. In July 1953, Orvin received his draft papers for the Korean War, so he and Ruby were married on July 26, 1953 at Bethany Lutheran Church in Star Prairie. They were blessed with two wonderful children, Deborah and Dennis.
On August 6, 1953, 10 short days after they were married, Orvin was enlisted in the United States Army. He served at Fort Sheridan, Illinois in the 734th Battery as a gunner. Upon his return home, Orvin worked for NSP and then in 1962 he started working for Doboy Packaging Machinery as an Electrical Engineer. He met many lifelong friends there and in 1994 he retired after 32 years. Orvin also went to night school at Dunwoody College for Electrical. He could often be found wiring many of the local farms and homes in the Star Prairie area. Otherwise, you would find him working up at West Immanuel, with his son Dennis, wiring Servant Hall, the parsonage or any other odds and ends that needed help. Orvin was a devout Lutheran. He and Ruby belonged to West Immanuel Lutheran Church for over 55 years. He sang in the church choir, served on many boards there and he served as church president for many years. Orvin was also on the Board at Luther Point Bible Camp. In his retirement, he enjoyed going to Osceola football games, fishing & hunting at their cabin, visiting with neighbors, helping at the church and eating lutefisk. He and Ruby also enjoyed traveling, especially going to Missouri to see Orv's Army buddy. But most of all, Orv loved spending time with his family.
Orvin is preceded in death by his wife of 69 years, Ruby Luehman; his loving daughter, Debbie Krueger; his great grandchildren Jacob Hayman and Madeline Gessner; and his parents, Werner Luehman and Florence (Selvig) Luehman.
Orvin is survived by his son Dennis (Nancy) Luehman; his son in law Tom Krueger; his grandchildren Jessica (Mike) Gessner, Emily (Mike) Hayman, Amanda (Andy) Bolder, Mick Darvial; his great grandchildren, Elida, Avery, Thomas, Graydon, Michael and Samantha; and his siblings Duane (Marlene) Luehman, Diane (Verlyn) Lindemann, and Keith (Beckie) Luehman; as well as many loving nieces and nephews, relatives, and friends.
A funeral service was held Thursday, January 12, 2023 at 11:00 am at West Immanuel Lutheran Church (447 180th St.) Osceola.  Visitation was held Wednesday, January 11, 2023 from 4:00-8:00 pm at Bakken-Young Funeral & Cremation Services (728 S Knowles Ave.) New Richmond and on Thursday from 10:00-11:00 am at the church.  Interment was in West Immanuel Lutheran Church Cemetery. Arrangements are with Bakken-Young Funeral & Cremation Services.
Click here to watch the recording of Orvin's Funeral Service