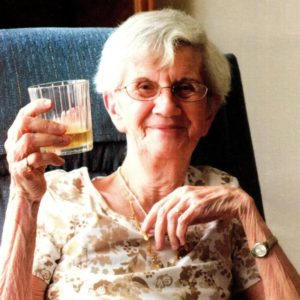 From her earliest days, Ole Ellefson knew what she wanted.  Perhaps her earliest declaration of this independence was when she said her name was OLE, not Iola.  By the time she finished eighth grade, she knew that was not what she wanted for herself.  She wanted to get married and have babies.  When her dad stood in her way, she rearranged the script, getting pregnant and then persuading her mother to help convince her father to allow the marriage.  And the babies followed in succession.  First, Jackie, then Jimmie and finally, Steve.
Her twenties, during the WWII years and beyond were times of constant moving from farm to farm, following jobs that sustained their family.  Ole learned how to pack up and move with no notice, create a new home from nothing and make sure her children were schooled.  Transportation often came on a country road with a babe in arms and thumbs outstretched.  Times were challenging and extra money was only a concept.
When her husband, Dan Vail, fell ill and died when he was 36, Ole was left a widow with 3 kids.  The Doornink family farm in Baldwin was home, where they were lovingly sheltered until Ole found work and the family moved into town.  Amazingly, she got the perfect job for her as a telephone operator.  At the telephone office she met a quiet and gentle man who caught her fancy and won her heart.  She and Lyle Ellefson got married, and together they had a son, Jeff.
After they settled in the house on Maple Street, Ole needed something more to keep her busy.  They decided that having a roomer would be a good idea and so came a string of teachers, medical students and telephone technicians who rented the front room upstairs.  These wonderful people became part of Ole's extended family.  When the children were born to some of "her" teachers, she became the most loving caregiver to a new little group of special babies.  Each one was more precious, smarter, and more beautiful than the last.
Ole never met a stranger and never let go of a friend.  She wrote newsy letters on a fantastic variety of papers given as gifts, or lined tablets that quickly came to hand.  She was always full of news of the family and questions about those she was writing to.  Her curiosity was boundless.  Her love came through in every word.
There was nothing she liked better than having the dishes washed up after a good meal and sitting down to an evening of cards.  She loved the baking that preceded Christmas, and the back stairway on Maple street was always filled nearly top to bottom with tins of peanut brittle, fudge and all the Norwegian treats that Lyle loved.  She loved a "half a beer", a good joke, a sparkling clean house, and a baby in her arms.
Ole leaves behind a legacy of kindness, courage, determination, humor, and love.  Her family will live inspired by her life.
After a life well lived, Ole Ellefson passed away on May 26, 2021, at Birch Haven Assisted Living in Baldwin, Wisconsin.  She was born the daughter to Ezra and Susie Wright on August 2, 1923 in Grand Meadow, Minnesota.
Ole was a possessor of uncommon common sense, and a person of unwavering loyalty and integrity.  She was a faithful friend, truth teller, confidant, and storyteller.  She was lover of life, of family, of babies, card games, Aggravation, and the proverbial half a beer.
She was preceded in death by husbands Donald Vail and Lyle Ellefson, son, Jimmie Vail, granddaughter, Jennifer Ellefson and siblings Howard and Viola.  She was a beloved mother to daughter, Jackie (Donald) Detmar, and sons, Steven (Jamie) Vail, and Jeffrey (Kim) Ellefson.  She was grandmother to Doni Detmar George, Jodi Detmar, Troy (Audrey) Detmar, Bobbie (Curtis) Guthrie, Nancy Cotner, Jimmie (Lisa) Vail, Barry (Dascha) Vail, Aaron (Andrea) Vail, Jacob (Jessica) Vail, and Trevor (Sarah) Ellefson.  She was great grandmother to Jeremy, Tony, and Jami George, Brandon, Nichole, and Christopher Detmar, Christi and Rylan Davis, Tiffany and Cole Cotner, Alex and Derek Vail, Josh Renstrom, and Easton, Beckett and Henry Vail, August and Sawyer Vail, and Rylee, Lillian, and Braelynn Ellefson.
Additionally, she is survived by loving friends, Karen Vail, Nancy and Jim Nikora, and Anna Juza Zimmerman.
A funeral service was held on Friday, May 28, 2021 at 11:00 am at First Reformed Church in Baldwin.  Visitation was also Friday from 10-11 am at the church.  Interment was in the Baldwin Cemetery.  Ole's family would like to thank the entire staff at Birch Haven Assisted Living for their kindness and loving care. In lieu of flowers, memorials are preferred to Birch Haven Assisted Living, 640 Elm Street, Baldwin, WI 54002. Arrangements are with Bakken-Young Funeral & Cremation Services.
Click here to watch Ole's Funeral Service