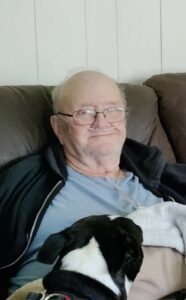 Norman "Norm" Arthur Radtke, age 77, of Roberts, WI, passed away on Saturday, October 22, 2022. Norm was born in Adams, WI to Albert and Doris (Dye) Radtke on January 24, 1945. Norm attended Adams- Friendship High school and at seventeen joined the United States Navy.
In 1964, Norm's sister introduced him to the woman who would become the love of his life, Grace Carol (Graettinger) Radtke. They were united in marriage on July 3, 1965 at Corpus Christi Catholic Church in Bakerville, WI. They were blessed with 3 children: Linda, Greg, and Kristen.
Norm spent many years working as a sausage maker and butcher after leaving the Navy. In 1977, Norm and Grace purchased Norm's City Meat Market (later Radtke's Red & White) in Alma, WI. Norm became well known for amazing sausage creations as well as his butchering skills, processing deer for many hunters. To this day, his family struggles to find anything as good as what he made.
Norm loved sports, especially baseball. He played baseball as a youth then played and coached softball in local leagues. Gifted with a rare talent, Norm had the ability to both pitch and hit right or left-handed. Norm loved hunting and fishing, something he did as often as he could. He was also an avid card player, especially cribbage; his skill and luck were such that if one of his kids beat him 1 of 3 games, it was considered a reason to celebrate. Norm also loved to grow both vegetable plants and flowers, especially geraniums. These loves were passed down to his children and grandchildren.
Norm was preceded in death by his wife Grace, his parents Albert and Doris, sister Dorothy Freed and brothers-in-law Leland Freed and Dennis Ulmer. He is survived by his children Linda and Greg (Michelle) Radtke of Roberts and Kristen (James) Bird of Madison; grandchildren Hope and Joe Radtke of Roberts and Michael Bird of Madison; sisters Betty Ulmer and Kathy (Robert) Neilson of Baraboo, Sandy Delongchamp of Mesa, AZ; brother Wayne (Carol) Radtke of Adams; niece/goddaughter Suzi Radtke; nephews Mike (Debbie) Freed, Chris (Vicki) Freed, Rob (Terri) Freed, Dan (Lori) Freed, Jon Freed, Todd Neilson, Jody Neilson, David Delongchamp, Damien DeLongchamp and many other family members and friends.
Mass of Christian burial was on Saturday, November 12 at 1 pm at St. Mary's Catholic Church in Hammond, WI, with visitation one hour prior. Burial was in St. Bridget's Cemetery, River Falls, WI. In lieu of flowers, memorials are preferred. Cremation services provided by Bakken-Young Funeral & Cremation Services.