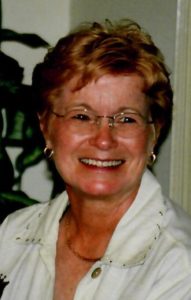 Norma Lea (Manor) Smith
Norma L. (Manor) Smith, age 83, born March 16, 1938, of River Falls, Wisconsin passed away Wednesday, February 23rd, at home. She grew up in Arkansaw, Wisconsin, where she married Raymond J. Manor June 15, 1954, farmed and raised five children.  She was a hard-working wife and mother who showed her love through cooking for her family and others.  She enjoyed square dancing, bowling, playing cards and board games, and anything to do with sports.  She never missed a game or performance for any of her children. She was widowed in 1988 and relocated to River Falls and worked at Smead Manufacturing.
Norma met John R. Smith, whom she married September 3, 2000, and began wintering in Mesa, Arizona. She picked up the sport of golf, playing cards, and loved socializing with friends. She became a huge Wisconsin sports fan and enjoyed cheering on her teams.
Survivors include her husband, John Smith, her 5 children: Jerry (Mary), Jim (Kelly), Cindy (Dan Kampa), Joe (Katie), and Sue (Bill Wynn), her 2 step-sons Greg (Siri) and Mike (Kirsten), her 17 grand children, 6 great grandchildren, and 3 great great grandchildren. Preceded in death by Raymond Manor, December 6, 1988.
A Memorial Mass of Christian Burial was held on Thursday, March 3, 2022 at 11:00 am at St. Bridget Catholic Church (211 E Division St.) in River Falls.  Visitation was also on Thursday from 10:00-11:00 am at the church.  Private family interment will be at a later date in St. Joseph Catholic Cemetery in Arkansaw, WI. Arrangements are with Bakken-Young Funeral & Cremation Services.