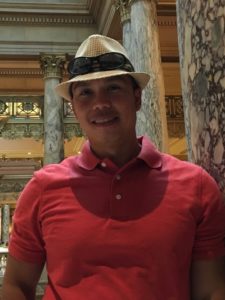 On Tuesday, May 25, 2021, Noah Sai Metha Inthichack, loving companion, son and brother, passed away at the age of 45 at the University of MN Medical Center after a hard-fought battle against Covid-19.
Noah was the youngest of 5 children born on June 7, 1975, to Bountheung and Manivanh (Siamphone) Inthichack , in Vientiane, Laos. His family emigrated from Laos to the United States in 1983, settling in Minneapolis, MN.
Noah attended Roosevelt High School in Minneapolis where, during his senior year, he participated in a foreign exchange student program, choosing to go to Coronel Oviedo, Paraguay. He graduated from Centro Educacional Diocesano and recently returned to Paraguay, with Tom, to celebrate his 25th HS Reunion. It was as if he never had left. Paraguay and the people he loved there were a very influential experience in Noah's life development and he considered all of them his South American family. Noah was also extremely proud of his heritage and that shone through when he and Tom took a trip of a lifetime together to explore Thailand and all its beautiful people and Temples.
Noah went on to earn several different Associate's degrees. One, in particular, he was very proud to have accomplished was in Law Enforcement. Noah was hired in 2007 as a Community Service Officer for the City of Minneapolis. He transitioned into the Minneapolis Police Academy, graduating as a police officer in the class of 2009-02. Noah worked in the MPD Records Information Unit since 2015. His career also consisted of him working for Cornerhouse, allowing him to work with children and their families pursuing safety, justice and healing for them. He also worked at Bristol Place, providing supported living services for adults with developmental disabilities. Noah's calling truly was always caring for and helping others.
Noah was a dedicated companion to his love, Tom Schmid, with whom he shared the last 17+ years with. Together they shared their home with beautiful acreage by the St Croix River in Somerset Twp, WI. Noah had a deep passion and love for all the wildlife and nature surrounding his home, but had a special fondness for all of the dogs he had in his life over the years. He loved cooking, creating and maintaining his beautiful gardens, drawing/art, floral design and creation, spending time collecting shells on the beaches of Sanibel Island, FL, and watching Thai/Lao dramas and comedies in his free time. His passion could be found on a daily basis with his relationships with family and friends whom he influenced greatly, leaving indelible marks on every life he touched.
Throughout his life's journey, Noah explored several faiths/religions to help him find true meaning. He studied and participated in Buddhism, Mormonism, and Christianity. After completing his 2-year Mormon mission call, he eventually found the inner peace and wisdom in the teachings of Buddha to be what was best suited for him. Noah reflected the wisdom, kindness, patience, generosity and compassion of Buddha's teachings every day, and those that were fortunate enough for him to call family or friend were very lucky to have someone as special as him in their heart, and he felt the same about them in his.
Noah is survived by his life partner, Tom Schmid; his mother Manivanh (Siamphone); his brothers Tou (Ploua), Thoom, La (Phai) and sister Lattana (Fernando), along with numerous nieces and nephews, all of whom were very important to him. His late father, Bountheung Inthichack, precedes Noah in death.
A memorial gathering will be held to honor and celebrate Noah's life from 4:00 pm until sundown on Sunday, June 13th, 2021 at the home he and Tom shared, located at 2301 Timber Road, Somerset, WI 54025.
All family and close friends are welcome to come share stories and reminisce, as we celebrate the life of someone truly special and beloved, Noah "Sai" Metha Inthichack.
In lieu of flowers, everyone is encouraged to make a Donation in Noah's name to the MN Animal Humane Society at www.animalhumanesociety.org