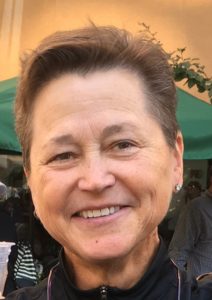 Nancee K. Melby, age 60, left us way too soon.  Following a brief illness, Nancee passed away peacefully surrounded by her family on Wednesday, March 16, 2022, at Westchester Medical Center in New York.
Born on November 18, 1961 to Herbert and Arliss Melby, Nancee was raised in and around New Richmond, WI.
Nancee lived life to the fullest never afraid to try new and different things.  Probably her greatest passion was cooking and sharing her creations with friends.  She was warmhearted, generous, caring, creative and had a personality larger than life.  She loved being around people and would easily strike up a conversation with anyone she met and made them feel special.  Her many hobbies and interests included gardening, golf and spending time at the cabin or at Breezy Point.  Nancee pursued many other interests throughout her life, most notably the sport of curling.
Nancee enjoyed a long and successful career in the computer industry in variety of capacities and touched many lives both professionally and personally along the way.  She enjoyed her career, but her deepest passion was loving and caring for the family and friends that she now leaves behind.
She is preceded in death by her parents, Herb and Arliss; brother, David (Janice); Nancee is survived by her spouse of 33 years Dello Roehl, her brothers, Craig (Sue) and Scott; sisters, Cheryl (Larry) Standaert, Carol (Terry) Peterson and many nieces and nephews.
A Celebration of Nancee's life will be held at a later date.  Cremation services coordinated by Bakken-Young Funeral & Cremation Services, 728 S Knowles Avenue New Richmond, WI.