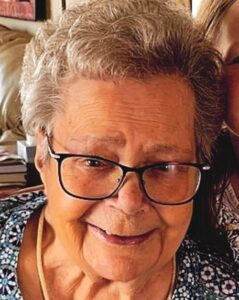 Myrna Paulson, age 86, died on Monday, July 24, 2023 at Willow Ridge Healthcare in Amery, WI. She was born the daughter of Ralph and Evelyn Johnson on July 29, 1936 in Saint Paul, MN. Myrna grew up in Deronda WI and attended Amery High School. She married Leland Paulson on November 28, 1953 in Deronda. Myrna worked many jobs throughout her life. She worked as a bus driver and cook for Amery schools. Myrna loved gardening and spending time with her family. She was a great cook and loved her family.
Myrna was preceded in death by her husband, Leland; parents, Ralph and Evelyn Johnson; son-in-law, Dave Johnston; 10 siblings, Warren Johnson, Maurice Johnson, Allen Johnson, Ronald Johnson, Glen Johnson, Jerry Johnson, Stewart "Stub" Johnson, Meredith Schaller, Marion Sax, and Marge Lucchesi. She is survived by her children, LeRoy (Cheryl) and JoDee (Al Beestman) Johnston; grandchildren, Amanda (Joe) Engesether, Jess (Dustin) Wiste, Alex (Tiffany) Johnston, and Robynn (Garrett) Proteaux; 14 great-grandchildren; one great-great-grandson; and many other nieces, nephews, relatives, and friends.
A Memorial Service was held on Wednesday, August 2, 2023 at 11:00AM at First Lutheran Church (811 S Ave W, Clear Lake, WI 54005) in Clear Lake. A Visitation was on Tuesday, August 1, 2023 from 4:00-7:00PM at the church and Wednesday one hour prior to the service. Interment was in Clear Lake Cemetery. Arrangements are with Bakken-Young Funeral & Cremation Services.