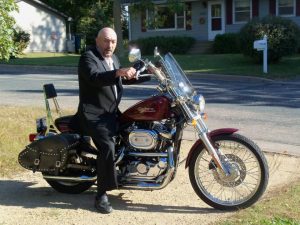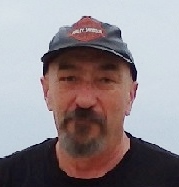 Moni Dale Pittman, 62, of Hammond, died Friday, February 10, at United Hospital in St. Paul as the result of an aortic aneurysm that caused a massive stroke.  He was born at Amery Hospital on July 30, 1954.  His parents were Arthur (Art) and Winifred (Butler) Pittman.  He was the only son of three children.  Growing up he lived in the Clayton and Clear Lake areas.  He graduated from Clayton High School in 1972.
He married Laurabeth (Laurie) Schmahl on December 17, 1999.  Their ceremony took place in Martell beside the Rush River with a campfire providing light and warmth.  The groom wore Packers clothing and the bride wore Vikings clothing.  Moni always joked that there was no snow on the ground at the time and it did not snow until they returned to Hammond.
Throughout his life Moni worked for Wonder Bread in St. Paul, The Natural Gas Company in Baldwin, Farrill's Sunrise Nursery & Landscaping, Duro Bag and Zappa Brothers in Hudson, and the Fireworks Outlet in Baldwin, and Phantom Fireworks in Roberts.  In addition, he often did landscaping and remodeling projects for friends and acquaintances until retiring in July, 2016.
Moni was an online ordained minister and had officiated at twenty-two weddings.  "The Rev" was proud of the fact that twenty of the couples are still together.  Moni liked any activities that involved a good time: playing cribbage, darts, or pool, bonfires, lighting up fireworks, water skiing, riding motorcycle, telling jokes/stories, or visiting friends at Ras' on Main or the Hammond Hotel.  He was a Packers and Twins fan.  He did a stint running lights for his nephew's band, Maximum Dosage.  He had a knack with computers.  He could name the make and model of any car, as well as be able to name most "older" songs with very few notes.  Moni enjoyed any hot food and appreciated when friends would bring him the spiciest souvenirs they could find while out and about.
Moni liked helping others, whether it be moving living spaces or appliances, running a chainsaw, starting vehicles, running errands, assisting with fundraisers, bringing American Heritage Care Center residents to the town parade, or the Polar Plunge, which he jumped 10 times.  As a last contribution to others, Moni was a donor to Lions Eye Bank of Minnesota.
Moni is survived by his wife Laurabeth, stepdaughter Catherine Schmahl and her children Aalea and Alexander of River Falls; sisters Vicky (Gene) Burns of Clear Lake and Dixie Pittman of Clayton; nephews Troy (Monica) Burns of Champaign, IL, Trent Burns of Bettendorf, IA, Tad (Kelly) Pittman of Plymouth, MN, Tracy (Paula) Pittman of Turtle Lake; and niece Twila (Greg) Sikkink of Amery, WI; in-laws Louise (Rainer) Schmahl of Pepin, Rebecca (Jeff) Pajac of Martell, Marylee Schmahl of Hammond, Bernie Schmahl of Hammond, Joseph (Heather) Schmahl of River Falls, and many friends.
He was preceded in death by his parents Arthur and Winifred Pittman.
A memorial gathering to celebrate Moni's life was held Thursday, February 16th from 3:00 – 7:00 p.m. at Bakken-Young Funeral Home in Baldwin.  People were encouraged to wear their favorite sports team clothing.  Private interment will follow at a later date.  In lieu of flowers, memorials are preferred.  Arrangements are with Bakken-Young Funeral & Cremation Services of Baldwin.