by Chaplain Julia Rajtar, MAPS, BCC
Who needs this mindfulness stuff?  It's just a slang word for something I'm already doing in my life anyways, isn't it?   I used to feel that way.  As a person of faith, I believe I already practice mindfulness and meditation in a way.  That may be true, yet this mindfulness, led by Heather, helps me to fine tune my current skills, and focus them on grief, loss and stress.  Not everyone practices meditation or mindfulness.  Mindfulness or meditation, requires time, energy, attention and focus.   That's true in a faith life, and that's true if you choose to use this tool to help you cope with your grief and stress in life.
What is mindfulness?  It is "the art of using your senses to be fully awake in the present moment."  Mindfulness & Grief, Heather Stang, p.8.  Heather suggests that few of us are taught to cope with the day to day stress, much less grief in life.  Given all the change and losses we have experienced this year, it is even more important, now than ever, that we take time to take care of ourselves.
According to Heather, all we need to approach the stress and grief in our lives mindfully, is ourselves, just as we are, right now.   Additionally, a desire to do something different in your life to help you to cope, a desire, willingness or openness to trying, and learning some new skills will be important.   With that in mind, we invite you to join us for this TAPS Webinar as a group, led by Heather Stang, MA, C-IAYT.   Whether you are coping with a death, postponing a funeral, caring for an elderly parent, dealing with health issues, struggling to find normal again, this group event can teach us new skills for coping with the stress.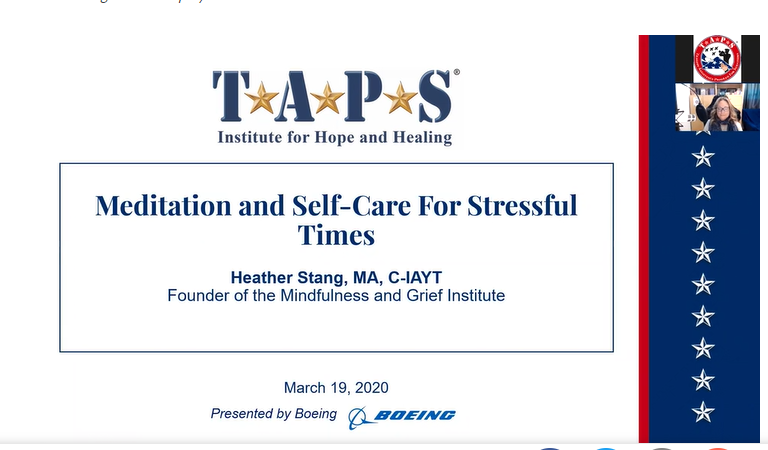 Join us for this virtual gathering to watch and discuss Meditation and Self-Care for Stressful Times, led by Heather Stang, MA, C-IAYT, founder of Mindfulness and Grief Institute on:
Wednesday, Aug. 5, 2020                  6:00pm-7:30pm
Join us from your own home, using your computer or Cell Phone or other Technology.  Zoom meeting invitation to be sent out.  RSVP to Julia, Grief Support Coordinator, at Julia.rajtar@bakken-young.com with Name and email by Monday, Aug. 3.
Calm your mind and regulate difficult emotions, improve your awareness of the present moment, and increase your compassion toward yourself and others with Meditation and Self-Care for Stressful Times.