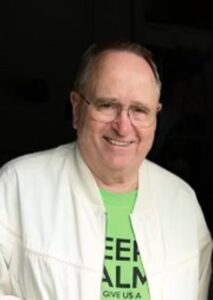 It is with great sadness to announce the passing of Milt Helmer of River Falls WI. Milt passed away surrounded by loved ones after battling a heart related illness. Milt is survived by his wife, Carol; children, Laura (Jason) Decheine, Tom (Cara); grandchildren, Jazmine, Nick, Jack, Clay, Moriah, Ciera, Carolyn; siblings, Bill (Janet), Rita Butler; and many nieces, nephews, relatives and friends. He was especially fond of his hospice nurses J.J. and Kim who will be forever in our hearts due to the care and kindness that they gave Milt and his family during his final months.
He was preceded in death by his parents Clayton and Gertrude Helmer and brother-in-law Larry Butler.
Milt was a man who was committed to serving others. This was evident in his work as a Free Mason and a Shriner. He was always there for anyone who needed assistance or simply a friend to talk to. Milt grew up in Beldenville, WI and he started working at a very young age at his parents' printing business Helmer Printing as a type setter. In 1981 he became the president of Helmer Companies alongside his brother Bill. He was often spotted in the community as he made his way door to door selling advertising for the Shopper in his signature red cap. He retired in 2002. Milt was also a member of the Independent Free Papers of America where he touched the lives of many friends and colleagues. Among his many talents was cartooning and free-hand sign painting. He was extremely artistic and had a flair for creating successful advertising campaigns. Milt also enjoyed fishing, photography, and spending time with his family. He will be greatly missed by all who knew and loved him.
A Memorial Service was held on Sunday, February 26, 2023 at 2 pm at the English Lutheran Church 229 W Main Street Ellsworth, WI and streamed live through the link just below this obituary.  Visitation was held on Saturday, February 25, 2023 from 12 – 4 pm with a Masonic Service at 4 pm at Bakken-Young Funeral & Cremation Services 805 E Division Street River Falls, WI and on Sunday from 1-2 pm at the church.  Interment was in the Beldenville Cemetery.  Arrangements are with Bakken-Young Funeral & Cremation Services.
Click here to watch the recording of Milt's service