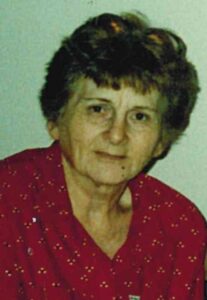 Mildred "Millee" (Matern) Swanson, age 94, passed away at the St. Croix Health Center in New Richmond, WI, on Thursday, February 2, 2023, with family by her side. She was born in Le Mars, IA on October 22, 1928, to George and Louise (Wormke) Matern. Millee started working at an early age at the Blue Bunny Ice Cream Co. in Le Mars, IA, until taking a job at the Armour Meat Company in Sioux City, Iowa. She worked there until the plant closed. Taking a company transfer to South St. Paul, MN, she and her husband, Floyd Swanson, moved their family to Minnesota, eventually relocating and settling in New Richmond, WI.
After her early retirement from Armour Meat Co, she held various jobs to keep busy including selling in-home-fabric for the Fab-U-Lous Fabric Company; Toro Company, Bloomington, MN; Friday Canning, New Richmond Bakery, and Kwik Trip in New Richmond, WI.
Millee was known for her one-liners and quick wit. She was a very caring and helpful person, ready to lend a helpful hand when needed; her kindness and empathy affected many people. She expressed her artistic talent in crocheting, needlepoint, ceramics and making porcelain dolls. She learned to decorate cakes to the enjoyment of family, friends, and others. Millee gifted her many talents to everyone. She had a strong enthusiasm for quilting and helped to organize the Willow River Quilt Guild in New Richmond, WI. Millee will be missed dearly by family and the many friends she made throughout her life.
She is preceded in death by husband, Floyd Swanson; daughter, Roxann Swanson; great-grandson, Austin Swanson; parents, George and Louise (Wormke) Matern; brother, George Matern, Jr.; sister, Gladys Matern. She is survived by children, Robert Swanson, Douglas (Patricia) Swanson, Dale Ann Swanson, Rhonda Swanson, Rita Swanson, James Swanson; grandchildren, Tammy Swanson, Brenda Swanson, Karri (Axel) Survila, Bobbi Jo (Erik) Kelly, Melissa Swanson, Katherine Swanson; great-grandchildren, Skyller Swanson, Caitlin Survila, Johanna Survila, Emmalee Kelly, Ellivia Kelly, Asher Kelly, Audrey Kelly, Andelynn Kelly; great-great-grandchild, Waylon Besch; and many relatives and friends.
A visitation for Mildred Swanson was held on Friday, February 10, 2023, 3 p.m. – 7 p.m. with a prayer service at 6:45 p.m. at Bakken-Young Funeral & Cremation Services (728 S Knowles Avenue) in New Richmond, WI. A graveside burial took place on Saturday, February 11, 2023, at 11 a.m. in the New Richmond Cemetery. Arrangements are with Bakken-Young Funeral & Cremation Services.