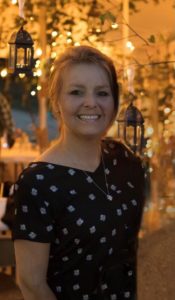 Michaela Dawn Emerson "Kayla", age 36 of New Richmond, WI met the arms of Jesus on January 1, 2022. Our beautiful, sweet girl endured kidney failure for many years. She fought hard until she took her final breath peacefully in the presence of her mother and God mother at United Hospital.
Michaela was born and raised in New Richmond, WI. She graduated from New Richmond High School in 2004. She began working as a server at Loggers in St. Croix Falls. She would eventually spend nearly a decade as a server at the Barnboard in Roberts. Her co-workers and customers were very special to her. She was always working "doubles" because she truly enjoyed being there. It was her home away from home.
Michaela was adventurous. She loved the rush of a scary movie or a thrilling amusement park ride. Her favorite show was Full House. She loved her dogs with all her heart. She enjoyed shopping and always took great pride in looking nice. She was extremely smart. There was nothing she couldn't figure out. She had an incredible memory and could recall anything. She was a believer, a giver, an optimist, a forgiver, and a true friend to so many people. Her smile and laughter is what will be remembered most. Through all her trials she remained positive and was a true fighter and survivor. She had a stubbornness about her that kept her going. We were told often that she was a true medical miracle. She was the sweetest girl with the biggest heart. She loved all of her family dearly. She will be forever loved, missed and remembered.
Michaela is survived by her mother Dawn (Gary) Nelson, father Brad Emerson, sisters Danielle (Pete) Kruschke, Shelby Emerson, brother Joshua Emerson (Megan McCormick) grandmother Mary Olson, nephews Brandon Gaspord, Ezra and Elijah LeMone, River Emerson, nieces Stella Langemo, Maddalena Beisang, aunts and uncles Deborah Olson (God mother), Lori (Jim) Marita, Lisa (Dave) Frank, Robert (Ayesha) Olson, William Olson, Julie Olson (Justin), Vicki (Paul) Mayer, Kim Emerson, best friend Nikky (Olson) Christinson, and many cousins and friends.
Michaela is preceded in death by her daughter Anna Kay Donatelle, grandparents Beatrice and Allen Emerson, aunt Cindy Emerson, uncles Greg Emerson and Troy Emerson and cousin, Scott Frank.
A Celebration of Michaela's Life was held on Friday, January 28, 2022 at 12 noon at Faith Community Church 1040 Paperjack Drive New Richmond, WI and streamed live through the link just below this obituary.  Visitation was also on Friday, January 28, 2022 from 10am – 12 pm at the church.  Hors d oeuvres followed the service in the upper level of Mallards Restaurant in New Richmond from 1:30-3:30. Interment will be in the New Richmond Cemetery at a later date.  Arrangements are with Bakken-Young Funeral & Cremation Services.
Click here to watch Michaela's service.