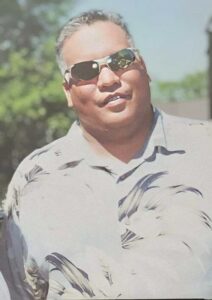 Michael (Mick) James Duresky, 56 (formerly of St. Paul and Silver Bay, MN) died peacefully at his home Saturday, September 16, 2023.
After graduating high school Mick served in the 82nd Airborne out of Ft. Bragg, NC and also at Ft. Ord, CA. He proudly served his country for 6 years. While he was in the service Mick married Sherri Hall but sadly the marriage dissolved after a few years.
They had three sons. Mick never remarried.
Mick worked in a variety of fields. He was a CNA at a couple of nursing homes and also did home healthcare. He also worked in the construction field as a roofer and carpenter. Mick drove a school bus for St. Paul Schools (the little kids loved him and he them). Mick went to school for Law Enforcement but three quarters of the way he had to drop out because he was needed at home. Mick proudly served several years on the St. Paul Police Reserves. He was also an over the road truck driver until his illness got the best of him.
Mick was a quiet guy and a loner. He kept his circle of friends close. He was an avid reader and read most anything he could get his hands on. Besides reading his hobbies included fishing, hunting, skeet shooting, darts, bowling, and spending quality time with his family.
Mick was preceded in death by his great grandparents Sid and Helen Hart; grandparents Bill and Betty Richards, and Henry and Grace Navarro. He is survived by his parents James (Veronica) Duresky of Silver Bay, MN and Connie (Navarro) Peterson of New Richmond, WI; siblings Cari Ann (Joe Huonder) Duresky of New Richmond, WI; Brittany (Kyle) Blood of Duluth, MN; and Zachary Duresky of Silver Bay, MN. Mick is survived by his children Jonathan Anderson, Matthew Duresky and Michael Duresky of North Carolina, He is also survived by his niece Paradyse Gustafson and her daughter Alice of Hudson, WI; five grandchildren; and special friend Sherri Hall Duresky of North Carolina. He is also survived by many cousins and friends.
To honor Mick's memory, we will hold a Celebration of Life on October 14, 2023 from 2:00 – 5:00 p.m. at Bakken-Young Funeral & Cremation Services (728 Knowles Ave.) New Richmond, WI 54017. A military honors ceremony will be held at the end of the gathering. We invite all who have known Mick to attend and remember his wonderful life. Interment will be held at a later date in the Minnesota Veterans Cemetery in Saginaw, Minnesota. Arrangements are with Bakken-Young Funeral & Cremation Services.