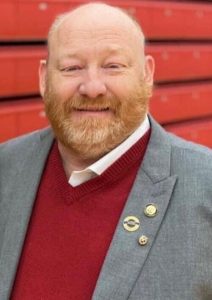 Michael Sean Martin, age 53, of New Richmond, WI died on January 28, 2022. He was born in Honolulu, HI to the late Dr. Carroll and Marilyn Martin on Feb. 1, 1968. Michael married Rory Wittmus on September 30, 1995, in Chilton WI and had three daughters together. Michael graduated from St. Catherine's High School in Racine, WI in 1986. He graduated from UW Whitewater with a BS in Psychology in 1991 and a Masters in Counseling in 1993. He started working at the UW Marathon County as a Hall Director in 1994. He transferred to UW River Falls in the fall of 1997 to be the advisor for the elementary education program. He loved and enjoyed his job adding and changing his responsibilities throughout his 25 years there. As the Senior Coordinator of Educator Preparation Program, he affected many students lives as the TEACH learning community advisor, the elementary education teacher advisor, the admission to teacher education preparation program coordinator, the data program manager and teacher licensing officer. Michael earned the Academic Staff Excellence Award in 2016 from the UW Board of Regents, the highest statewide award for someone in his field. Mike was a loving father and husband. He learned to love the sport of volleyball as he followed all three daughters from grade four through high school playing volleyball on spring league, middle school, club and high school teams. Mike was a gamer; he was known to the gaming community as Thraxzz. He enjoyed role playing games, card games and video games.
Mike is survived by his wife, Rory; three daughters: Kaleigh, Makenna and Kennadi; sisters: Michelle (Jason Rownd) Martin and Meghan (Tim Gifford) Martin; brothers: Matthew and Mitchel; aunt: Jane Peterson. Mike is preceded in death by his parents Dr. Carroll and Marilyn Martin. A scholarship in Mike's honor is being established by the UW-River Falls Foundation. You may donate to the Michael Martin Memorial Scholarship Fund at: https://www.uwrf.edu/give/Michael-Martin-Memorial.cfm. Checks may be mailed to: UWRF Foundation, ATTN: Martin Memorial Fund, 410 S. 3rd St., River Falls, WI 54022.
A Visitation was held on Sunday, February 6, 2022 from 1:00-5:00PM at Bakken-Young Funeral & Cremation Services (805 E Division Street) in River Falls. A Memorial Mass of Christian Burial was held on Monday, February 7, 2022 at 11:00 AM at Saint Bridget Catholic Church (211 E Division Street) in River Falls with a visitation one hour prior to the Mass. Arrangements are with Bakken-Young Funeral & Cremation Services.
Click here to watch the recording of Mike's service Memorial Mass of Christian Burial.