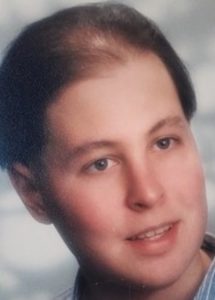 Michael Kelly, age 41, died Saturday, July 11, 2020 at his home. Michael Thomas Kelly was born on September 15, 1978 in Hinsdale Illinois. He was raised in Hickory Hills Illinois attending Dorn Grade School and Conrady Jr High. His life pre-cancer was very normal. He started T-Ball, played catcher in the local little league, was always at one of his friend's house or had many of them at ours. Mike's life changed forever when he was diagnosed with a cancerous brain tumor in March of 1990. A normal kid became special losing his hearing to chemo and his vision indirectly to the tumor. After a lengthy fight and recovery, Mike returned to special-needs school, graduated from Stagg High School. In the years before moving in 1997 with his mom to St Paul Minnesota, Mike attended Cancer Camp in Geneva WI and went to Park City Utah where, as a blind person he learned to snow ski.
In Minneapolis, Mike attended a school for blind people. He learned braille, how to cook, had his own apartment, learned how to navigate the neighborhood along with using the public transit and joined a blind bowling league. Without the knowledge of his mom, Mike arranged transportation to Maplewood MN and did open mic "stand-up" at a comedy club!
Mike's heart was always in Chicago. He was a diehard Cubs and Bears fan. In 2002, Mike convinced his mom that he was going to move back to Chicago. With some help, he found a residence for people like himself who wanted to be independent but needed some help. He moved to Chicago's north side and thrived. He made friends, went with them to Cub games, navigated to a local bar for pizza, the library for audio books and went to a local bank successfully crossing a 4 lane intersection. Mike even survived being mugged one afternoon.
Mike had to move back to Wisconsin in 2013. He was starting to suffer from late effects of the treatments 30 years ago. New Richmond was Mike's new home. Every time his mom picked him up for lunch, shopping and ice cream, he would ask to move back to Chicago. Mike moved again in May of 2019 to Ellsworth.
The remainder of Mike's story is the sad part. In spite of the changes in his brain and body, Mike kept his humor and most of all, his smile. Mike is survived by his mother, Laura Bales Miller, Aunt Cindy and Uncles Rob and Russ, father Tom Kelly, half-brother Jimmy and many, many cousins. He is preceded in death by all of his grandparents. His final resting place will be back in Chicago. He is finally going home.
Memorials will be directed to the University of Minnesota Pediatric Oncology Survivorship Research. A Private Family Memorial Service was held Thursday, July 16, 2020 at 11:00 a.m. at First Congregational Church (110 N 3rd St.) in River Falls. Cremation Services provided by Bakken-Young Funeral & Cremation Services.