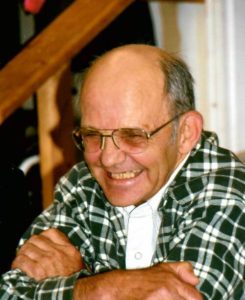 Michael John Held, age 78, died peacefully at his home, on Tuesday, May 31, 2022, surrounded by his family. He was born the son of Howard and Vera (Janke) Held on May 19, 1944 in Black River Falls, WI. Michael grew up in Black River Falls graduating from Black River Falls High School, class of 1962. Following high school, Michael joined the US Army and was stationed at the Nike Base in Roberts, WI. While stationed there he met his future wife, Jane Hopkins, across the field on her family farm. They married on July 31, 1965 in Saint Paul, MN. Michael managed a gas service station in Minneapolis and later purchased a Shell franchise gas station. In 1980, the family purchased a dairy farm in Amery, WI and farmed until his retirement in 2005. In retirement, Michael and Jane moved to their house on the Apple River where he loved fishing and watching sports with his grandchildren. He was a hard-working and reserved man who had a slightly mischievous side teasing his grandchildren.
Michael is preceded in death by his parents, Howard and Vera; and brothers, Ronald and Daniel. He is survived by his wife, Jane; children, Jackie (Mike) Alexson, John Held, Jenn (Jamie) Rosenow; grandchildren, Elizabeth (Erik Blow) Alexson, Michael Alexson, Katherine (Jon Haaversen) Alexson, Journie Rosenow, Dawson Rosenow, Foster Rosenow, and Ike Rosenow; sister, Betty (Frank) Kerhin; sisters-in-law, Sandy and Bonnie; and many other nieces, nephews, relatives, and friends.
A Celebration of Life was held on Saturday, June 11, 2022 at 12 noon at Bakken-Young Funeral & Cremation Services (728 S Knowles Ave) in New Richmond with a visitation starting one hour prior to the service. Interment was in New Richmond Cemetery. Arrangements are with Bakken-Young Funeral & Cremation Services.