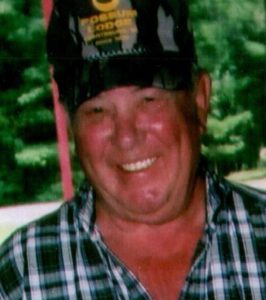 Melvin George Germain, age 81, of Somerset, WI, passed away peacefully on Thursday, October 24, 2019 at his home. He was born the son of Tom and Cecilia Germain on February 22, 1938. Melvin grew up in Somerset attending Somerset schools. He worked for Anderson Windows, retiring after 38 years. He married Barbara Lynn Durand on October 28, 1961 at Saint Anne's Church in Somerset. After Barbara passed away later in life, Melvin married Claire Cheaney on August 5, 1995 at Saint Anne's Church in Somerset. Melvin loved to spend his time fishing, camping, and working on small engines. He was a prankster who loved to tell jokes and keep the life in the family. Melvin enjoyed watching sports when the family was around. Anyone who knew Melvin knew he had a designated spot at the kitchen table where he watched the wildlife out his back window.
Melvin is preceded in death by his parents, Tom and Cecilia; first wife, Barbara; second wife, Claire; daughter-in-law, Patricia; siblings, Jim (Rose), Gerald, Louie, Eileen Struemke; sister-in-law, Annette; brother-in-law, Clint Pfluger. He is survived by his sons, Scott (Tresa), Shane; step-children, Cathy (John) Rivard, Andy (Kim) Cheaney, Ed (Lori) Cheaney; grandchildren, Zachary, Jared, Cadey, Lauren, Connor; step-grandchildren, Jared Potter, Emily (Adam) Mommaerts, Michael, Allison, Samantha, Caitlyn (Dallas) Brayll, Anna, Mikalya, and Alyssa Cheaney; great-grandchild, Westyn; step-great-grandchildren, Roman, Aurelius Mommaerts, Gabby Brayll; siblings, Vincent, Theresa (Harold) Rivard, Betty (Ken) Hoverman, Joanne Pfluger, Tommy (Sue); sisters-in-law, Geraldine and Lorraine; brother-in-law, Al Struemke; and many nieces, nephews, relatives, and friends.
Mass of Christian Burial will be held Thursday, October 31, 2019 at 11:00am at Saint Anne's Catholic Church in Somerset. Visitation will be held Wednesday, October 30, 2019 from 4:00-8:00pm at Bakken-Young Funeral & Cremation Services (728 S. Knowles Ave) in New Richmond and one hour prior to the Mass at church. Interment will be in Saint Anne's Catholic Cemetery on Friday, November 1, 2019 at 1:00pm. Arrangements are with Bakken-Young Funeral & Cremation Services.