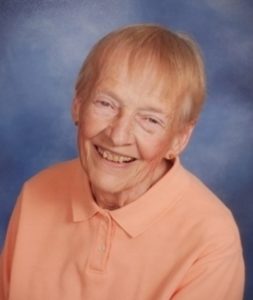 Mary Arnet Sather (May 28, 1930-April 5, 2020) Courtesy of Rivertowns newspaper group. Written by David M. Newman.    Additional information added from family. 
NEW RICHMOND — Mary Sather was at the heart of New Richmond's growth over the past 50 years and she was always there to document the city's progress.  Sather died Sunday, April 5 2020, after several months of being in failing health. She was 89.
She was born May 28, 1930 in a hospital in La Crosse Wisconsin and later graduated from La Crosse Central High School.  She attended La Crosse State College for one year, then transferred to a B.S. Degree Nursing Program at Hamline University in St. Paul, MN and Asbury Hospital in Minneapolis, graduation in 1951.
Mary worked as Assistant Supervisor in Asbury Hospital's surgical suite for the next three years during which she and Irvin H. Sather, of New Richmond, Wisconsin, were married in 1953 in Mary's home church, the Hokah Methodist Church.  By 1954 they had moved to New Richmond, WI where Mary worked in her nursing profession at Hudson Memorial Hospital and at the Holy Family Hospital in New Richmond.  She later earned a Master of Arts Degree in History at the University of Wisconsin, River Falls.
Mary and her husband, Irv, were incredibly active in the community. She and Irv were voted as New Richmond's Citizens of the Year in 1994. Mary took a keen interest in the city's history. A book written in conjunction with New Richmond's 100th anniversary observation of the June 12, 1899 tornado which destroyed much of the city, They Built Their City Twice, A History of New Richmond, Wisconsin won a national award from the American Association of Local History.
Mary and Irv were among the founders of the New Richmond Preservation Society, which was chartered in 1982. The society was designed to preserve the history of the city and surrounding area. The society owns and operates the Heritage Center, which has become one of the showcase pieces in the community. Mary served as the curator for many years.  A longtime columnist for The New Richmond News, she wrote a weekly column titled "Also Noted" for 45 years, publishing her final column in 2015. For many of those years, she also wrote "Sharing Memories" about New Richmond's history.  She led the production of the News' Centennial Edition Plus 5 in 1973. This was a huge undertaking, with the edition containing 10 sections.
She interviewed many of the people who were influential in the city's history. Many of the interviews were recorded at the restaurant she owned in the 1980's, the Fount 'N Fare located in The Creamery Building.  At the time she was operating her restaurant, she also served on the Board of the New Richmond Chamber of Commerce and had one year as the Chamber's first woman president of the Board.
Mary remained highly active in the community well into her 80s.  She and Irv were members of the New Richmond United Methodist Church and various community organizations.  Which included creating New Richmond's first public child care establishment, The New Richmond Child Care Center.  As well as they thought that a skate park was needed in the city, they supported the construction of one at Hatfield Park. In recognition of their assistance, the park is named the "Irv and Mary Sather Skylark Skate Park." Mary was also a meticulous gardener.  There is a flower garden right outside the entrance of the Heritage Center office where she spent countless hours. That spot bears the name "Mary's Garden."
Preceding Mary in death are her parents, Joseph and Laura Sheldon Arnet, her brother Phillip Arnet, Grandparents George and Amelia Burow Arnet, and Sumner S. and Ada Fairbanks Sheldon.  She is survived by her husband Irvin Sather, three children, Craig and Doug Sather, Laura (Reuben) Sather Lemunyete, and six grandchildren, Kyle, Emily, James and Marie Sather, and Loiweti and Naiboku Lemunyete.
A Memorial Gathering will be held on Thursday, August 20, 2020 from 4:00-7:00pm at Bakken-Young Funeral & Cremation Services (728 S. Knowles Avenue) in New Richmond.  Guests are requested to wear masks and practice physical distancing.  Arrangements are with Bakken-Young Funeral & Cremation Services.