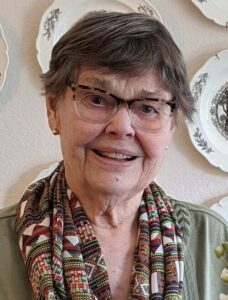 Mary Louise (Olson) Olson was born and grew-up on "the house on the hill" in Spring Valley, WI.  She was born to Harold Sr. and Louise (Blegen) Olson on November 25, 1935. A "Monday's Child, fair of face," she had blonde hair and brown eyes and was known for her beauty.  Mary Louise cherished growing up in Spring Valley, the "best little town near a dam site."  The Spring Valley flood of 1942 and the impact of WWII loomed large in the memories of her early childhood.  In high school, she was voted Homecoming Queen, cheered for the Cardinals, played saxophone in the band, learned to forge Principal R. Syverson's signature, and sang in a girls group called "The Tulips" which performed on WCCO's "Stairway to Stardom". She graduated from Spring Valley High School in 1953 and kept close ties with her classmates throughout her life, maintaining friendships that went all the way back to kindergarten and confirmation.  She met her future husband, Craig Olson of Baldwin, at a Luther League event.  They loved attending dances in the area, including at the Prom Ballroom in Saint Paul.  They were married at Gilman Lutheran Church on June 30, 1956 and would refer to theirs as a "mixed marriage" because he was Swedish and she Norwegian.  Mary Louise attended UW-River Falls, where she made more cherished lifelong friendships. During her college years, she sang with a trio called the "Y-Tones" and was voted Campus Cover Girl.  She graduated from UWRF in 1957 with a degree in Education and Library Science. Throughout her career, she worked in Petersburg and Prince George, VA; Elmwood, WI; Rosemont, MN; Decatur, AL; and finally, for 17 years at River Falls High School. Countless students remember the influence of ML's "I-Search" paper, Great Works class, Advanced Composition class, and high expectations in (and out of) the classroom. In each location she worked, she developed special relationships with students and colleagues and always loved attending reunions. When her children Trygve and Kjersti were born, she initially stayed at home. Upon returning to work, she continued to prioritize caring for needs at home: clean clothes ready for the next day, warm meals eaten together as a family, game nights around the round kitchen table, regular church attendance and participation, and holiday traditions that incorporated the family's Scandinavian heritage.  An incredible baker and cook, she loved making cheese straws with her son and krumkake with her grandson.  Mary Louise was also known for her cheese rolls and cinnamon rolls and would welcome new neighbors with freshly baked bread.  She taught her children to set a nice table, hand write thank-you notes and sympathy cards, and to place value on responsibility, integrity, and good citizenship.  A patriot, Mary Louise always kept up with (and had opinions about) current events; wrote countless published Letters to the Editor; served 8 years on the St. Croix County Board; and volunteered many hours toward campaigns and the Republican Party.  She served as an alternate delegate to the GOP National Convention in 1976; served as 3rd District Secretary; and received the Alvan E. Bovay Award.  Always committed to lifelong learning, she and Craig attended 22 Road Scholar educational trips. As a family, and as a couple, Craig and Mary Louise traveled the world extensively and enjoyed camping where "there's plenty to do and see in Wisconsin." Until the end of her life, whatever Mary Louise read, she'd highlight salient points and write comments in the margins.  She was a lifelong owner of much-loved dogs (and one special cat), a green thumb, a piano player and singer, an international student host, a proud hockey and Marching Wildcat mom, and an avid Packer fan.  (Days before she died, Mary Louise enjoyed one last Packer victory and a Vikings loss surrounded by her children, son and daughter in law, and grandchildren; she stated she "loved Love"). As a niece astutely wrote upon Mary Louise's death on September 27, 2023, "Her fierce opinionated temperament sometimes overshadowed her caring funny side.  Aunt Mary was one of a kind."    Mary Louise is preceded in death by her husband Craig W. Olson; parents Harold Sr. and Louise Olson; granddaughter Vilté Louise Olson; brothers Harold Olson and Gayle Olson; nephews Scott Olson and Chris Olson; and niece Julie Seeley.  Mary Louise is survived by her children Trygve (Erika Veberyte) Olson and Kjersti (Brian) Duncan; grandchildren Ula Louise Olson, Kaja Olson, Espen Duncan, Marit Louise Duncan; sisters-in-law Karin Brown, Dorothy Olson, and Janice Olson; and many nieces, nephews, relatives, friends, and students.   Her students called her "M.L."; her other favorite people called her "Mom" and "Bestemor."
The family would like to publicly thank Woodland Hill, Hudson Clinic, and Lakeview Palliative & Hospice Care Staff for the many ways they provided care to Mary Louise and her family during this final year. Family felt very blessed by the opportunity to be with her to share and receive her love at the end of her earthly life.
A memorial service for Mary Louise was Friday, October 6, 2023 at Luther Memorial Lutheran Church (420 S 4th St) in River Falls, Wisconsin at 10:00AM.  Visitation was also at church on Thursday, October 5, 2023 from 4:00PM to 7:00PM and one hour prior to the service.  Interment was in Greenwood Cemetery in River Falls.  Arrangements are with Bakken-Young Funeral & Cremation Services.
Memorials can be sent to the follow organizations in Mary Louie's honor: Lutheran World Relief, Pawsitive Perspectives Assistance Dogs and the The Spring Valley Education Foundation.