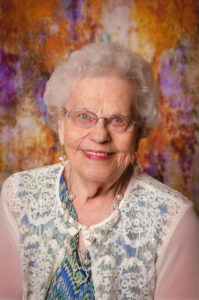 Mary Lou Smith, age 91 of New Richmond, WI, died Friday, November 23, 2018 at the Deerfield Gables. She was born in her parents' home in Star Prairie, WI on June 9, 1927 to Iorine and Arnold Albert. The family moved to Duluth, MN, where she grew up and graduated from Denfield High School in 1948. She met and later married her husband, Otto F. Smith, in Duluth on August 14, 1948 at Bethany Methodist Church. They celebrated nearly 55 years of marriage before Otto died of Alzheimer's disease in March of 2003. They shared their years together with laughter, dancing, friendships, volunteering, parenting, working, and caring for each other as well as the multitude of family and friends around them.
The couple moved to Star Prairie in 1952, where Mary Lou worked as a bookkeeper for the St. Croix Health Center for many years. She also served a number of years on the Star Prairie Village Council, was a teacher's aide until the closing of the Star Prairie Elementary School, and worked in several offices at the St. Croix County Courthouse. Throughout her life, Mary Lou donated countless hours and efforts to various organizations, including the Star Prairie village, 66-year membership at Bethany Lutheran Church, and 60+ years with both the Order of Eastern Star and North Star Homemakers. She volunteered as a board member of the New Richmond Senior Center, gave much time to the Relay for Life, World Hunger Appeal, Council on Aging, and helped with many activities throughout her 11 years living at the Deerfield complex. She served as honorary chair for The Walk for Alzheimer's in 2005, was awarded St. Croix County's 1999 Outstanding Senior Citizen, and was honored, alongside her husband, Otto, as the 1994 Ox Cart Days Parade Grand Marshals.
Mary Lou loved playing cards and games with her family, friends and fellow Deerfield residents; she was a friend to everyone and brought much joy to many people. She was kind, helpful, open-minded and accepting of everyone, consistently optimistic and positive, even throughout her last days—her quick wit still with her! Many people have shared how much they appreciated her welcoming smile, the twinkle in her eye, and her ability to make anyone and everyone feel important and loved.
Mary Lou was preceded in death by her husband, Otto; her parents; and her sister and brother-in-law Ardell and Bill Goglin. She is survived by her children, Brent (Stacey Ann Durgin) Smith and Lori (Douglas) Stai; grandchildren, Jennifer Smith, Luanne (Evan) Koubsky, Alina (Josh) Pulfrey, and Taylor Stai; and several nieces, nephews, relatives, and friends. A memorial service was held Saturday, December 1, 2018 at 12:30 p.m. at the Deerfield Chapel (1127 W 8th St, New Richmond, WI 54017) with a visitation starting at 10:30 a.m. Interment was in West Immanuel Cemetery in Alden, WI. Arrangements are with Bakken-Young Funeral & Cremation Services.