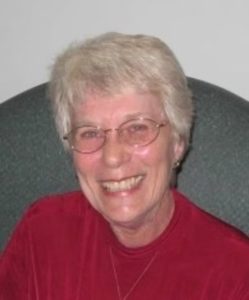 Mary Jo Vitt (née Hawkins) passed away on February 20, 2022, in River Falls, Wisconsin, surrounded by her family. Mary Jo was born on April 2, 1937, in the beautiful river bottomlands of Valmeyer, Illinois. She married Tom Vitt on the hottest day of July 1961, in Waterloo, Illinois. After a honeymoon trip down the river to New Orleans, they moved to St. Louis, where five sons quickly followed: Tom, Bill, Joe, Pete, and Bob. She and Tom moved the family to Cando, North Dakota in 1969, and soon were joined by another son, Jim.
Raising the Vitt boys in Cando was the glorious highlight of Mary Jo's life. When Tom's mental health struggles left her mostly a single Mom for several years, she didn't falter; she flourished. Smart as a whip, Mary Jo worked hard to support her family, first at the Merc, then Towner County Bank, and finally Jorde Brothers Seed Potatoes. She and her boys had a huge garden, an economic necessity that she made fun, with applesauce-making day a Tom Sawyer-whitewashes-the-fence-level neighborhood highlight. Mary Jo's home overflowed with books, British murder mysteries most of all. Her love of reading is a family legacy. She loved watching her sons play ball, and for almost two decades Mary Jo rarely missed a Cando Cubs game. She certainly never missed Sunday Mass at Sacred Heart, where she also taught CCD. Looking back at it all, Mary Jo wore the rosiest of rose-colored glasses—"we had fun," she would say—and we sure did.
We are grateful her husband Tom was eventually able to return to Mary Jo and his family, and we mourn his untimely passing in 1990. We are deeply grateful to the great people of Cando, who helped Mary Jo and our family in so many ways when she needed it most. And a special and heartfelt thank you to the loving staff at Comforts of Home—you are angels!
Mary Jo was preceded in death by her husband Tom and her parents, Aaron Forrest and Elizabeth Hawkins. She is survived by her siblings Ellery Hawkins, Donald Hawkins, Bonnie Curtner, and Carol Poland. She leaves behind her sons and their families, including 18 grandchildren and one great-grandchild: Tom (Kamala Udayamurthy and their children Joe and Julianne); Bill (Michelle and their children Theresa and Catherine); Joe (Jeannie Caraway and their children Jack, Ryan, and Sam); Pete (Aasha and their children Michael, Marcus, Maria, and Madeline); Bob (Sandra and their children Alex, Jimmy, Conor, and Laura (and Laura's daughter Leia)); and Jim (Stephanie and their children Luke, Elizabeth, and John).
Mass of Christian Burial was held on Saturday, February 26, 2022 at 11 am at St. Bridget Catholic Church 211 E Division Street River Falls, WI.  Visitation was also on Saturday from 10-11 am at the church.  Interment was in Sacred Heart Catholic Cemetery in Cando, ND this spring.  In lieu of flowers, the family asks for memorials to Minnesota Public Radio, a favorite of Mary Jo's.  Arrangements are with Bakken-Young Funeral & Cremation Services.
Click here to watch the recording of Mary Jo's Funeral Mass