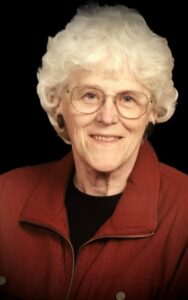 Mary Jane B. Hanson passed away at the Gables in New Richmond, WI on November 30, 2022. Mary Jane was born on January 9, 1933 in Black Brook Township in WI to Christian and Hanne Stensvold.
Mary graduated from Clear Lake High School in 1951 as Valedictorian of her class. After graduation she attended college briefly before coming back home to assist in the care of her Mother. She moved to New Richmond where she worked most of her adult life. She met her husband Bob at Kocian's Market where they both worked.
They were soon united in marriage on October 23, 1954 in Clear Lake, WI. They started to raise a family of 7 children and after a couple moves built a house on the northside of New Richmond where they remained for the next 63 years until moving to the Deerfield in 2021 where they continued with their independent lifestyle. Mary's main focus was raising her children and maintaining the home they all shared. She was a woman of strong faith, patience, intelligence, sweetness with a great sense of humor. She was not only a mom to her own but she also became a mom to the many friends that the kids brought through the door. Once housing a summer foreign exchange student from Villahermosa, Mexico at the request of one of her kids. Jaime Reynes Garcia became another adopted son. When the kids were old enough Mary went back to work where she worked along side her husband. She was a Jill-of-all trades and worked wherever needed at Kocian's. As the store changed hands a couple times over she remained the duties of donut maker, deli cook, dish washer, etc. and anything else asked of her. She was a seamstress therefore helping her daughters in the business. She loved gardening whether it was flowers or vegetables, she became a button collector and belonged to a button club. She was an avid reader and writer. She would journal nearly everyday jotting down the events of the day, quotes that had meaning to her, personal observations and would clip magazine/newspaper articles and save them and give them to the recipient that she felt would like to know the information. She touched so many with her calm and logical demeanor. Her final job was alongside her husband assisting him at the concession stand at the New Richmond Hockey rink where they spent many days of working and watching their grandkids play and then become future coaches.
Mary was preceded in death by her Father Christian Stensvold, her Mother Hanne Stensvold, Brothers Orlando Stensvold, Norval Stensvold, Glen Stensvold and Darlo Stensvold. Sister Lola (Stensvold) Fouks. Sons Robert Hanson Jr., Garry Hanson and Tim Hanson. Granddaughters Stephanie Hanson and Heidi Hanson.
Mary is survived by her husband Robert Hanson Sr. Sons Terry (Brenda) Hanson and Steve (Sue) Hanson. Daughters Annette (Kelly) Erickson and Pamela (Mike) Timp. Daughters-in-Law Mary McGurran, Jan Caress-Hanson and Carolyn Hanson. Grandchildren Isaac (Darielle) Hanson, Abby (Robert) Holden, Noah Hanson, Michelle (Ryan) Carlson, Lindsay (Pat) Cranston, Nick Hanson, Heather (Danny) Gilkerson, Josh (Nicole) Page, Matt (Alicia) Page, Jami Bucklen, Melissa (Chris) Neill, Kristopher (Dondi) Hanson, Justin (Connie) Hanson, Sarah (Jon) Ninas, Jen (Wade) Brost, Alisha Hanson and Tyler (Shawna Tarman) Hanson. Great Grandchildren Brock Carlson, Nora Carlson, Lucy Cranston, Ruby Cranston, Jake Cranston, Claire Gilkerson, Chase Gilkerson, Chloe Gilkerson, Will Page, Eric Page, Jordan Page, Cece Page, Kenley Bucklen, Cooper Bucklen, T.J. Neill, Josie Neill, Rylie Neill, Olivia Hanson, Jackson Hanson, Henry Hanson, Louisa Ninas, Graham Brost, Harper Brost and Emiline Hanson and many nieces, nephews, and brother and sisters-in-law. In lieu of flowers donations can be made to the Diabetes Foundation and The World Literacy Foundation.
A Funeral Service was held on Tuesday, December 6, 2022 at 12 noon at the United Methodist Church (209 E 2nd Street) in New Richmond with a visitation starting two hours prior to the service at 10AM. Interment will be at a later date in New Richmond Cemetery. Arrangements are with Bakken-Young Funeral & Cremation Services.