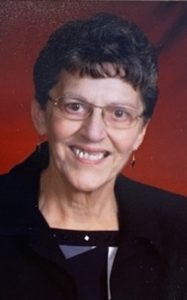 Mary Patricia (Hogan) Goodwin
Mary Goodwin, age 82 of New Richmond, died peacefully on 8/12/2022 at the Deerfield Gables. She was born on May 26, 1940, at Margaret McNamara's Hospital in New Richmond, WI to James Hogan and Myrtle (Rubow) Hogan Holland.
She went to a one room country school at Jewett Mills and then attended New Richmond High School. After high school, she got her degree from Miller Hospital Vocational School of Nursing in St. Paul, MN and worked as an LPN until she retired in 2013 from the New Richmond Clinic.
She enjoyed playing bridge, and enjoyed doing different crafts, and had the opportunity to travel overseas to Ireland, London, Australia and New Zealand.
She married E. Verle Goodwin in 1961 and was the mother of James Elliot Goodwin and Carol Jean (Goodwin) Helvig. She has 7 grandchildren and 9 great-grandchildren, all of whom she loved dearly.
She is preceded in death by her parents, James Hogan and Myrtle Hogan Holland, her husband, E. Verle Goodwin, stepfather, Harry Holland, brothers John and Paul Hogan, brother-in-law Thomas Hawkins and sister-in-laws Mary Ellen Hogan and Ellie Snyder. Mary is survived by her children, James (Samantha) Goodwin, Carol (Tom) Helvig, her grandchildren James, Johnathon, Tiffany, Felicia, Serena, Conner and Emma, her 9 great-grandchildren, brothers Edward Hogan and Tom (Shelly) Holland and sisters Phyllis Hawkins and Jean (Sherman) Bygd, sister-in-law Corinne, and numerous nieces and nephews.
Mary had a joy for life that will not be forgotten, a smile so bright and the most contagious laugh that will truly be missed.
Visitation was held on Wednesday, August 17, 2022 from 5-8 pm at Bakken-Young Funeral & Cremation Services 728 S Knowles Avenue New Richmond, WI and on Thursday, August 18, 2022 from 10-11 am at the church.  A Funeral Service was held on Thursday, August 18, 2022 at 11 am at First Lutheran Church 218 CTH-K, New Richmond, WI 54017. Interment was in the Oakland Cemetery in Star Prairie, WI.  In lieu of flowers memorials may be directed to the Cancer Center of Western Wisconsin.  Arrangements are with Bakken-Young Funeral & Cremation Services.
Click here to watch the recording of Mary's service