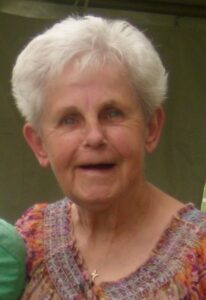 Mary Ann Margaret Wisemiller passed away peacefully at her home surrounded by her family on Thursday, November 16th. She was born in Clear Lake, Wisconsin on April 3, 1943 to Rueben Rothe and Margaret Strate. On February 23, 1963, she married James (Jim) Wisemiller. They spent the early years of their marriage in New Brighton, Minnesota where they were blessed with four children (Jill, Laurie, Jennifer, and Mike). In 1971 they moved to New Richmond, where the years were filled with friends, fun, and kids activities.
Mary Ann was always happy spending time with her friends and family. The door was always open, and just like magic, she could have a meal with enough to feed everyone. She was always baking, even though, she didn't have much of a sweet tooth, her husband Jim did.
During her life she cherished her friendships, from her next door neighbors in New Brighton and New Richmond, her lifetime friends from Clear Lake, the Hockey Group, and New Richmond.
Mary Ann was preceded in death by her husband Jim, her mother Margaret, and brother Gary, and many beloved, but not forgotten family members.
She is survived by her children and grandchildren, Jill (Darold) Dornbush, Katherine (Katie), Margaret (Maggie), and Anna; Laurie (Dennis) Miller, Jacob (Jake), Hayden (Samantha) Carson, and Tucker, Jennifer (Dan) Baillargeon, Reed (Allison), Bennett, and Hope, Michael (Shannon), Tanner and Maxx (Paige), her sister Gloria (John) Buhr, and aunt Evie Berends. We would also like to acknowledge her special group of friends, Diane Pietz, Kay Gehring, Vicky Peterson, Char Charland, and Cindy Swanda.
We are also grateful for the care mom received over the years from Westfields Hospital & Clinic, The Deerfield, and Lakeview Hospice. The care she received could not have been better. She loved everyone who provided her care, but most importantly, took the time to share their lives with her. Each of you meant the world to her. Instead of flowers, memorials are appreciated and may be directed to The Deerfield and Lakeview Hospice.
A Memorial Mass of Christian Burial will be held on Friday, December 22, 2023 at 3:00PM at Immaculate Conception Catholic Church (151 S Washington Ave) in New Richmond with a visitation starting at 2:00PM. A Reception will be held at Ready Randy's Sports Bar & Grill (1490 131st St New Richmond WI 54017) following the Memorial Mass. Private Family interment will be in Immaculate Conception Catholic Cemetery. Arrangements are with Bakken-Young Funeral & Cremation Services.